Families of Christchurch mosques attack victims got a warm and emotional welcome as they start Hajj pilgrimage at King Abdelaziz International Airport in Jeddah, Saudi Arabia.
Custodian of the Two Holy Mosques King Salman has invited the families of Christchurch mosques victims to perform Hajj this year, SPA (Saudi Press Agency) stated.
Director of Jawazat (Passports) at KAIA, Col. Sulaiman Al-Yousef received the families at King Abdelaziz International Airport welcomed the families of victims with Zamzam bottles, flowers, dates and other gifts.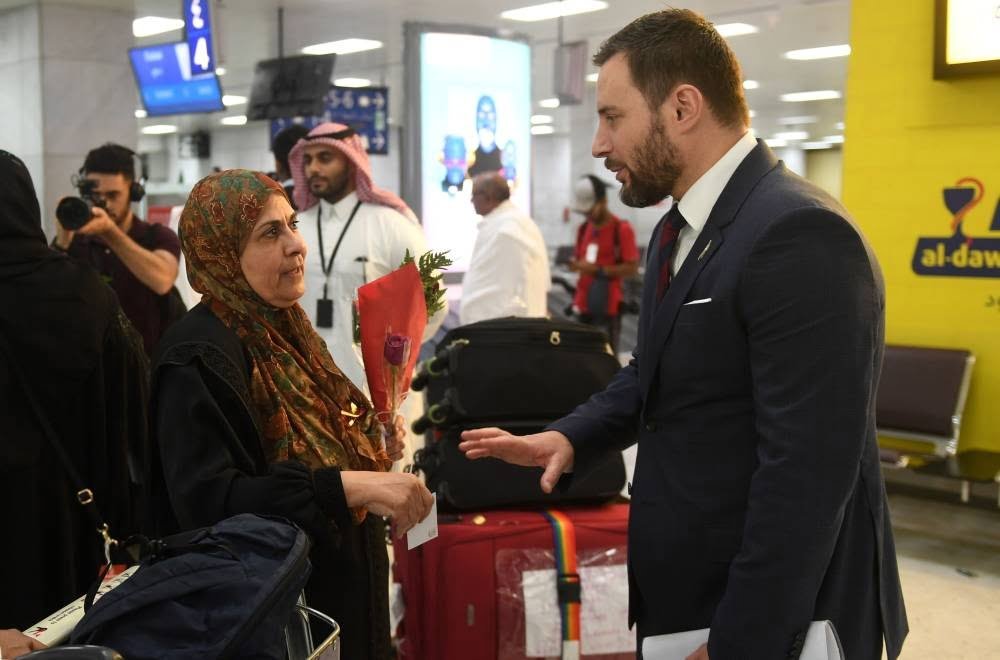 Director of Jawazat (Passports) at KAIA, Col. Sulaiman Al-Yousef said that King Salman affirms the great amount of service and attention to the pilgrims. He said the Passport department is doing their best to speed up the process to make Hajj more easy for the people arriving to perform Hajj duties.
"It will not take more than 20 seconds for a pilgrim to get a passport."

Col. Al-Yousef
Ambassador of New Zealand in Saudi Arabia, Munro, said that King Salman's gesture is indeed very kind.
This gesture is highly appreciated in New Zealand as well.
King Salman's program for Umrah and Hajj welcomes 6,000 pilgrims from different parts of the world. In 2018, they were 53,747.
Ministry of Islamic Affairs has prepared a number of well equipped and new buses for their transport.
Over 1.4 Million Hajj Pilgrims have arrived in Saudi Arabia till date.
About 1,516,101 pilgrims have arrived in Saudi Arabia from different countries of the world to perform Hajj this year, with an increase of 121,045 Hajj pilgrims belonging about 9 percent over their umber same as last year, Directorate General of Passports said.
According to the passport department of Saudi Arabia, 86,359 Hajj pilgrims came by land, 16,848 by sea and 1,412,894 hajj pilgrims arrived by Air through Prince Muhammad Bin Abdul Aziz International Airport in Madinah and KAIA.
Totaling a number of 821,792 pilgrims have arrived in Madinah, paying homage to Prophet Muhammad PBUH and to pray at Masjid a Nabawi.
And till date, 654,817 have left for Makkah after visiting Madinah, while 167,130 are still in Madinah.
Health Services
128 Health centers and 17 hospitals have been prepared to entertain the huge crowd that is currently in Makkah for Hajj.
There are 9 General Hospitals and 8 near Masjid Al Haram in Makkah which is managed by the medical staff of 30,000. Which is currently providing vaccinations and other things too as many as 1.2 million Hajj pilgrims.