Dr. Zia ur-Rahman al-Azami was born in a Brahmin Hindu family of Bilarya Ganj in 1943, which is a village located in the district of Azamgarh, UP, India.
Life and Journey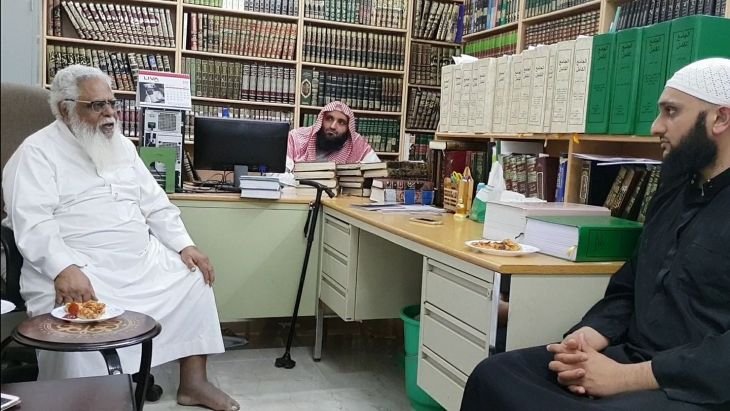 He was formerly known as Banke Lal, He converted to Islam at 16 years of age after reading the Hindi translation of the Holy Quran and Maulana Maududi's Islamic Literature.
As per Muslim World Journal, he wrote a book called "Quran Encyclopedia" which explained the words of the Holy Quran in alphabetical order. His book was translated into many languages.
He further traveled to South India to study at a number of Islamic seminaries in India. Then, he traveled to Madinah Munawwarah to join Madina University. He later obtained a PhD degree from Al-Azhar University in Cairo, Egypt.
Appointment as a Teacher at the Prophet PBUH's Mosque
He then retired from his position as Dean of Faculty of Hadith at the Islamic University of Madinah. After his retirement from Islamic University, he was appointed as a teacher at Masjid an Nabawi by the decree of the Head of the Masjid an Nabawi Affairs back in 2013.
He wrote a number of books on Islamic topics. And his writings have been translated into many languages.
The most famous book that he authored was "Al-Jami' al-Kamil fi al-Hadith al-Sahih al-Shamil" which was the compilation of various authentic Hadiths. It is still one of the most famous books on Hadiths.
Sheikh used to collect the authentic Hadiths in various books of Islam. He was able to compile 16,000 Hadiths. This compilation is based on more than 20 volumes.
Sheikh had also been given honorary citizenship in Saudi Arabia, which is an honor rarely granted, for his efforts and contribution to Islam.
Sheikh Dr. Zia ur-Rahman al-Azami Passes Away
He passed away on 30th July on the day of Arafah. Sheikh was laid to rest in the Al-Baqi Cemetery near the graves of companions nad the family of Prophet Muhammad PBUH.
Drop you email below so we can send you Islamic articles directly in your inbox.