In recent news, a candidate from the party of Trump uploaded a tweet that stated that they should investigate the number of death threats that they may receive on demolishing any of the statues of Prophet PBUH.
In the protests moment of the Black Lives matters, many statues were defaced around the world originating from the US. The candidates belonging to Trump's party are continuously making a fool out of themselves by making absurd claims only to impress their leader.
Among such acts, Angela Stanton King; a political candidate of Trump's party, also recently made a very ridiculous statement.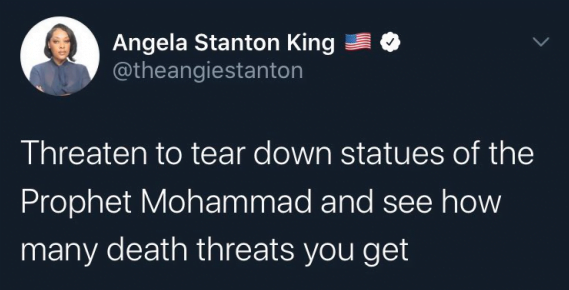 She wasn't aware of the fact that Islam is totally against the statues. That post of Angela Stanton is now deleted.
As soon as she uploaded the tweet, a lot of people schooled her as she was discussing a matter for which she doesn't maintain the required knowledge.
Among the rest users, one was witty enough to point out her ignorance.
Other people said that she should search out such statues of the Muslims and they would demolish them (statues of Prophet PBUH) together with her.
Being a politician, a sane mind is always required as a majority of people follow you. And when a topic is being discussed, collecting relevant knowledge becomes a need.
Another user commented that it is clear that they haven't exercised the required amount of research on the religion that they have opted to attack, which is, of course, nothing to be surprised of. They don't utilize their assets to dig out the information on the realignment of the political parties and the civil rights act.
Another America based Christian user also tweeted that it may be sacrilegious to depict the Holy Prophet (PBUH) in any form and the Muslims would be the first one for demolishing a statue.