Manchester United superstar Paul Pogba who has more than 85 million followers on social media (Facebook, Instagram, and Twitter), started losing his followers in India after he decided to speak up about the Karnataka Hijab Row by posting a video involving Hindutva Mobs on Thursday.
The French footballer took to Instagram and shared a story to highlight the ongoing hijab row in India in an effort to show solidarity to Muslim students of Karnataka. The 59-second video that he posted on his Instagram story was captioned "Hindutva mobs continue to harass Muslim girls wearing Hijab to college in India."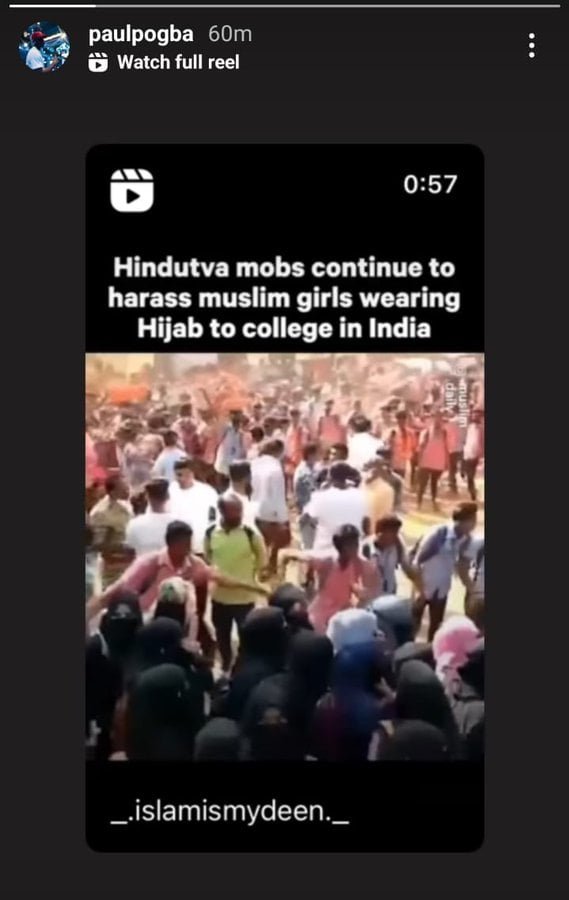 The 28-year-old footballer's latest social media activity certainly quickly attracted the attention of thousands of Twitter users in India, with a total of 4,000 tweets mentioning Pogba's name shortly after he slams Hindutva mobs on the hijab dispute.
Protests against the hijabs worn by Muslim students in educational institutions have escalated in the Karnataka state, and demonstrations have turned violent in some places.
The protests began on February 4 at the Government PU college in the Udupi district of the states when some students wearing hijabs reported that they were not allowed to enter classrooms.
In an attempt to protest against Muslim students wearing hijabs, several Hindu students showed up at educational institutions wearing saffron scarves.
Following the protests, a three-day holiday was imposed under the Ministry of Higher Education, and higher education under the Department of Collegiate and Technical Education (DCTE) started from February 9. The Karnataka High Court asked the students not to wear any clothes to the campuses of educational institutions that could incite people until the matter was resolved.
Apart from Paul Pobga, another prominent name that has also highlighted the ongoing situation in India is Nobel laureate Malala Yousafzai.
Malala said refusing to let women go to college in their in their hijab is horrible, and leaders should take steps to quit the marginalization of Muslim women.