Drone camera was in use by Turkish film crew which was shooting a movie in a village in Ghana. During this, an innocent old man looked at the Drone, taken it in his hands and said, "Can it take me to Makkah ?"
After this has gone viral an employee of TRT posted this tweet;
https://twitter.com/MucahidDurmaz/status/838093170365849607
This tweet says; "The first question asked by the Ghanaian Abdullah Amcan who saw the drone for the first time in his life is: "Could you make this a little bigger and take me to Makkah?" :)"
Soon, this story went viral with this post which was shared a million times all around the world through different social media mediums.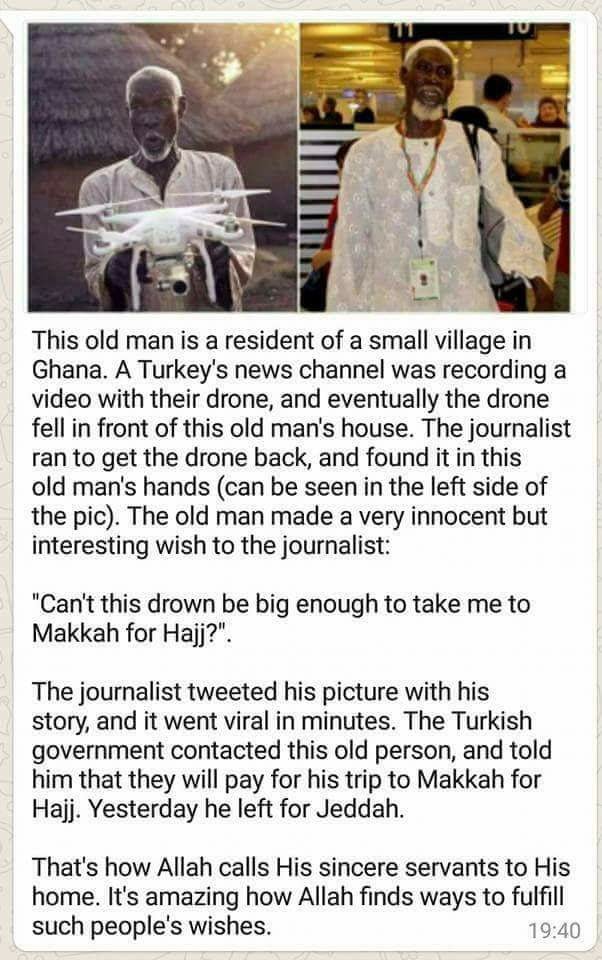 After this post went viral all around the world, many individuals and businessman from Turkey joined hands to fulfill his wish to visit Makkah for Hajj 2017. At first, no one knew where does this man lives and at what place did he see the drone and what is his name.
After so much searching, a police officer from Turkish embassy in Ghana has searched him after finding a lot this Drone man. He tracked down his location and all of the other things to facilitate him. And his name is Al-Hassan Abdullah.
Mevlüt Çavuşoğlu who is the Turkish Foreign Minister made arrangements for his Makkah departure so that he can perform Hajj 2017. And right now, this guy, Al-Hassan Abdullah is in Makkah to perform his first Hajj.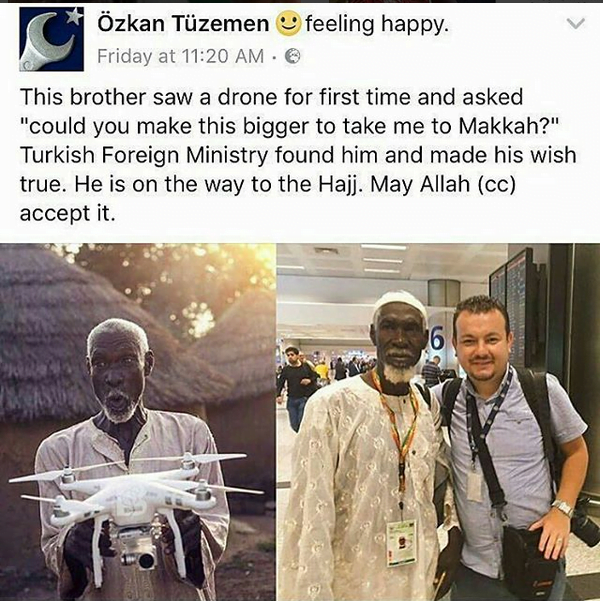 Al-Hassan Abdullah first arrived in Turkey where he welcomed the group whose work is to make Ghana a better place to live. Al-Hassan Abdullah told media;
I am thankful to Allah, as well as i make dua for everyone who make my Hajj dream come true.Turkey has been very helpful since my Drone thing went viral all around the world.