Anyone will indeed salute after knowing the experience of a married couple from Sri Lanka who has worked to serve Hajj and Umrah pilgrims at the Masjid Al-Haram for 17 years.
The pair are Ashraf and Fatima, two of the 12,000 employees under the General Presidency for the Affairs of the Two Holy Mosques who work to serve Umrah and Hajj pilgrims at the Masjid Al-Haram in Makkah.
In an interview with the Saudi Gazette, they expressed their happiness and gratitude for being blessed with serving the faithful for a dozen years. They thanked Allah the Almighty for giving them the blessing to get a job that can financially support them and enable them to serve and gain God's pleasure.
The couple shared their stories and experiences while working in Makkah on the same opportunity. Their extraordinary experience began when Fatima came and worked at Masjid Al Haram 17 years ago. She took care of the women's prayer space at the Holy Mosque, including spreading prayer rugs and mats.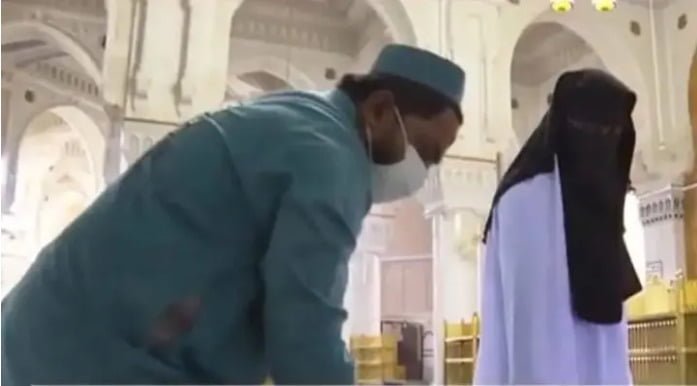 After four years of working alone in the Holy City, Fatima continued the story that the desire arose to bring her husband to work with her in the Grand Mosque. She immediately conveyed her wish to the Haram Presidency so that she would be allowed to bring her husband from Sri Lanka to work with her in Makkah.
Fortunately, the Presidency granted Fatima's request and agreed to employ Ashraf in the Grand Mosque.
Initially, Ashraf was not ready to leave his home country and work in Saudi Arabia. However, his wife's persuasion melted his heart. Ashraf changed his mind and went for Saudi. He is grateful every day because he can serve the pilgrims who visit the Grand Mosque day and night. An extraordinary opportunity that not everyone can experience.
He said that work in Makkah gave them pride, happiness, and honor and changed their lives forever.
Another great blessing of this couple's noble work is their work in the Grand Mosque, the holiest place for Muslims from all over the world to perform Hajj and Umrah, allowing them to perform Umrah every week. They are estimated to have performed Umrah more than 900 times when calculated. Masha Allah, what a fantastic fact. May Allah accept their good deeds and reward them abundantly.