Israel Arabic Twitter account created outrage after it tweets the photo of the Gaza bombing with Quranic Verses (Surah Al-Fil).
Surah al Fil (the elephant) is the chapter that shares the story of how Allah punished an army that attacked the Makkah by sending the birds which pelted the army with stones.
Israeli account deliberately used Quranic verse to mock Muslims all around the world.
This is the tweet they shared: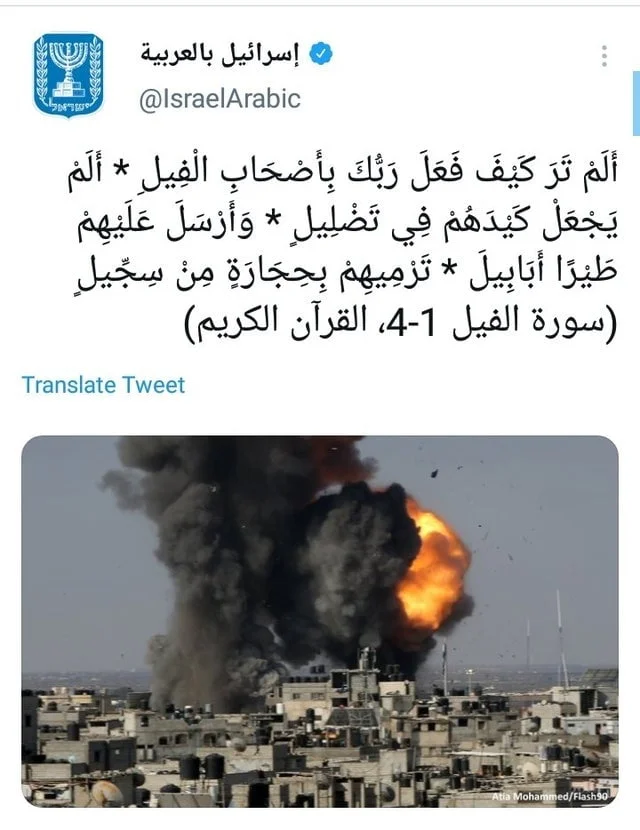 Israel (Arabic) shared the tweet on Tuesday morning. Later they deleted this tweet after the outrage.
Muslims are currently protesting against Israel for killing more than 220 Palestinians that includes over 61 children. Muslims globally is also boycotting Israeli products.
Famous Islamic scholar Yasir Qadhi took to Twitter to share his concerns about the tweet;
The majority of the people also reported the tweet to Twitter for hurting the religious sentiments.
People have reacted to this tweet with anger;
US publication Mondoweiss also tweeted against the blasphemous tweet;