The innovative devices are currently being installed on the escalators of the Grand Mosque of Makkah. This device is installed to fight coronavirus and will be able to kill 94% germs in no time.
The General President for The Affairs of the Grand Mosque and the Prophet's Mosque, Dr. Abdul Rahman Al-Sudais, was briefed yesterday on the project of the experimental "innovative device" to sterilize the stairs inside the Grand Mosque.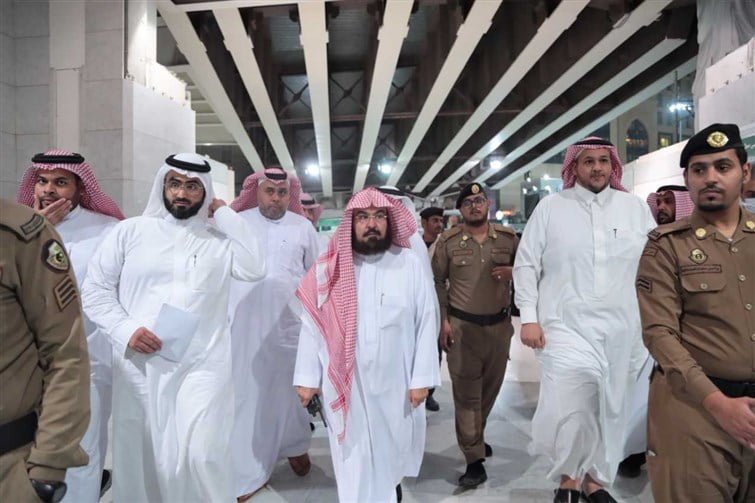 This device managed to eliminate the germs created on the stairs by 94%, which The General Presidency of the Affairs of the Grand Mosque and the Prophet's Mosque launched a number of electrical stairs to try it out and study the extent of its use and address the negatives and then circulated the project to all parts of the Grand Mosque.
The project is an innovative device to sterilize the electrical stairs inside the Grand Mosque, using ultraviolet (UV LED), and the device works to convert kinetic energy into electrical energy without the need to make electrical connections and eliminates the DNA molecules of germs, and the length of the wave rays (278) nm.
It is noteworthy that the radiation released by the innovative device does not have a detrimental effect on human health, and works on sterilization throughout the movement of the peace, and that the results of the sample experiment confirmed the reduction of the number of bacterial colonies from 160 colonies to 10 bacterial colonies.
Saudi authorities have banned Umrah for locals as well as foreigners pilgrims to take extra measures to fight coronavirus. But Dr. Abdul Rahman Al-Sudais also told the public that soon this ban will be lifted and Pilgrims will be allowed to perform Umrah.
Islamic scholars have been suggesting this Dua for Coronavirus to be recited after every Salah.