MUMBAI – Bollywood singer Lata Mangeshkar's funeral took place in Shivaji Park, Mumbai on February 6, 2022. The funeral was attended by many film stars including Shah Rukh Khan, a famous name in Bollywood.
When it was Shahrukh Khan's turn to pay respects to Lata Mangeshkar, he went towards the body and prayed a dua and blow it over her body, which is a custom in the Muslim world.
But, Hindutva and BJP supporters instantly turned a kind gesture into an islamophobic thing. Claiming that Shahrukh Khan actually spits on her body and it is a disrespect to Lata Mangeshkar.
Many online Muslims came to his support by saying that making a dua and blowing it is quite common. This growing Islamophobia in India is not even leaving a famous Bollywood actor to practice his religion openly.
Start of the accusation
It was Arun Yadav's account that sparked the fake news about Shahrukh Khan spitting on the body.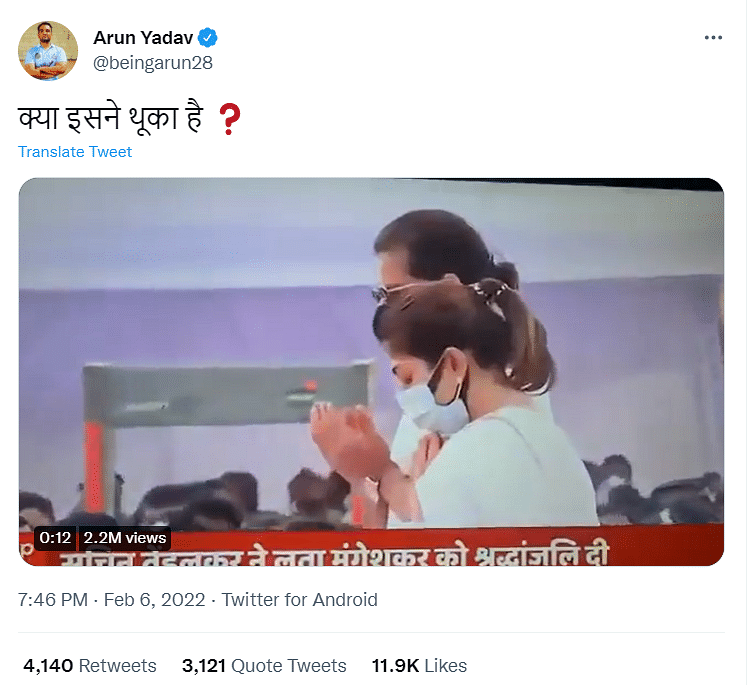 Prashant P Umrao, the Uttar Pradesh BJP spokesperson, retweeted Yadav's tweet and said, "SRK is spitting". Several times in the past, Umrao has been called out for spreading misinformation.
But there were several people who came in support of Shahrukh Khan.
Even in the midst of tragedy and mourning, the troll army and those who spread hatred did their bit and targeted @iamsrk even as he offered up duas for #LataMangeshkar
Who represented the essence of music, which knows no language, nor religion! #Stopthehatred @gaurikhan pic.twitter.com/Q2hO6AemZ5

— Sanjoy K Roy (@SanjoyRoyTWA) February 7, 2022
Fringe targetting @iamsrk by falsely accusing him of spitting at #LataMangeshkar Ji's funeral should be ashamed of themselves. He prayed & blew on her mortal remains for protection & blessings in her onward journey. Such communal filth has no place in a country like ours 🤲🏼🙏🏼 pic.twitter.com/xLcaQPu1g8

— Ashoke Pandit (@ashokepandit) February 6, 2022