A recent study shows that Muslim women in India face discrimination in the job market, where the study shows that the employment rate of Muslims in offices in the country is significantly lower than that of their population.
A 10-month study conducted by India-based LedBy Foundation in collaboration with the National Maulana Azad University Policy and Practice Development Center revealed discrimination and bias in the recruitment process against Muslim women in the hiring process for entry-level jobs in various sectors.
The foundation said it conducted 10 months of research, with 2,000 applications sent to 1,000 job invitees on job search sites such as LinkedIn by creating two identically qualified profiles. One is Muslim by the name of Habiba Ali, while the other, Priyanka Sharma, is Hindu.
The study found a significant hiring bias against Muslim women even in cases where they were equally qualified for the job. The study data showed that Muslim women received only 103 positive responses, while the profile of Hindu women received nearly 208, almost double the number obtained by Muslim women of similar quality. The net discrimination rate stands at 47.1 percent across the industry, based on responses received.
Meanwhile, experts say that Muslim women are doubly marginalized in a polarized society, where they stand at the intersections of gender and religious differences that significantly increase prejudice against them by potential employers.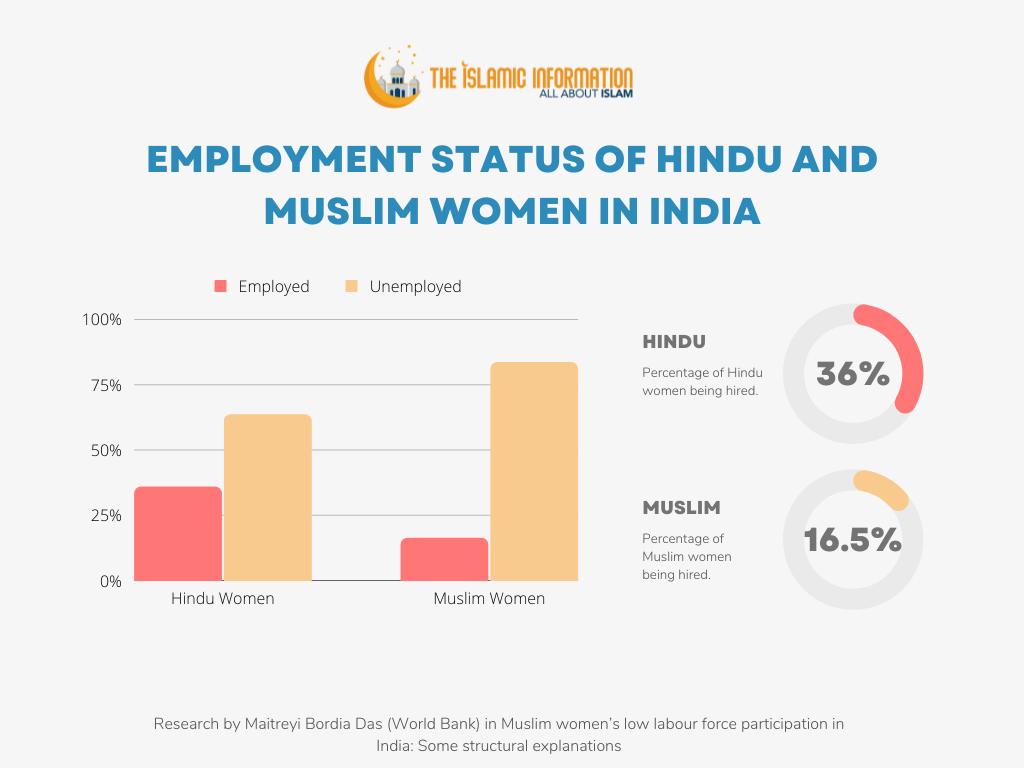 Apoorvanand, an academic and activist based in the capital New Delhi, said that the dominance of the BJP and the RSS (Rashtriya Swayamsevak Sangh), groups calling for the exclusion of Muslims from all economic spheres, exacerbated the dual discrimination that has already weakened Muslim women.
For Muslim women, most of the discrimination they face is about the hijab. This is experienced by Lubna Aamir, a dentist by training. Aamir, who graduated with excellent grades from her dental studies and experienced an internship at a leading government college in the state of Maharashtra, West India, had a hard time applying for jobs in clinics across India.
Aamir admitted that she had applied for jobs in almost two dozen places but had not received any response despite having excellent credentials. Finally, dentist Aamir realized that her identity as a Muslim woman put her at a disadvantage.
Aamir, who has now had to switch from clinical to non-clinical work, explained that during an interview at one of the branches of a large dental clinic chain in India, she was asked about her hijab. The interviewer questioned her willingness to take off her hijab if she was accepted to work at the clinic. When she refused, her job application was immediately rejected.
Shaila Irfan had a similar experience and previously worked in one of the largest English secondary school chains in New Delhi. However, Shila decided to quit her job when the administration officer asked her if she needed to wear the hijab.