Nabeez [also known as Nabidh] was a blessed drink which is consumed by Prophet Muhammad PBUH in his time. It is considered to be one of his favorite drinks. It is made up of Dates, Raisins, and Water.
Nabeez was one of the favorite drink of Prophet Muhammad PBUH. And it contains the things and cure for many things which will leave you amazed after you learn about it.
Nabeez or Nabidah is an Alkalizing tonic, it helps cure acidity of your stomach as well as digestive system. It also has to tendency to remove other metabolic wastes from one's body. Furthermore, it enhances the digestion as it is high soluble fiber and it makes the memory strong. It helps the function of Slpee, liver, chest, throat, and prostate, which is in a way more beneficial for men. One of the most amazing thing about it that Nabeez helps the patients of Arthritis, as well as the patents of Uric Acid (Gout), can also get benefited from it as it elevates the levels or Uric Acid and Arthritis.
There is also a Hadith mentioning this drink.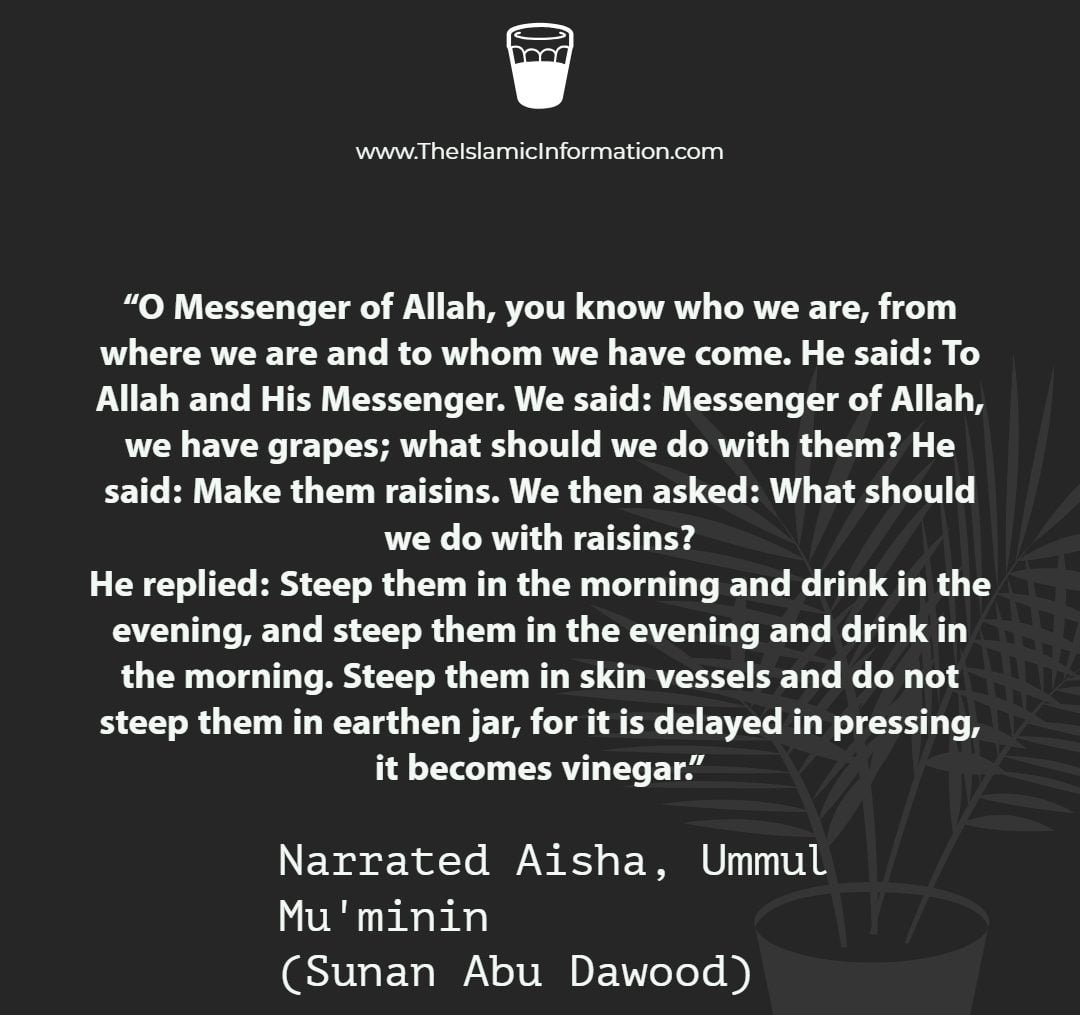 How to make Nabeez?
Follow these steps to prepare Nabeez drink.
Total Time: 1 day
Soak dates for a night in a packed container. If not the dates, you can soak Golden Raisins instead of Dates too.

Remove the seeds from Dates or Raisins, and grind them with water. You can add honey, but it's optional.

Strain and serve.

You can also drink without grinding the dates and can eat dates separately.

DO NOT MIX RAISINS AND DATES WHILE MAKING NABEEZ.

It is an ideal drink for Ramadan, especially in Suhoor. It helps people keep their energy during a day-long fast.
Supply:
Ajwa or any other date which is available. Quantity: 3-4 Dates.
Tools:
Water. Quantity: 1 Glass.
Materials: Honey. Quantity: 1 Teaspoon.
Nabeez is a Must Try Drink for everyone out there. Spread the knowledge by sharing this article!