Police in New York City have arrested a man who is the sole suspect in the shooting at a subway station in Brooklyn on Tuesday morning, in which 23 people were injured and 10 suffered gunshot wounds.
Frank James, 62, is alleged of wearing a construction worker's helmet, vest, and gas mask before throwing smoke grenades and opening fire.
Previously the police had difficulty catching the suspect who fled the scene due to a malfunctioning camera inside the underground station even offered a $50,000 reward for whoever with information that could help catch the suspect.
Fortunately, police managed to arrest the suspected gunman on Wednesday afternoon after receiving information from several Muslim men who said they saw James at McDonald's in Manhattan's East Village. Although police have not yet confirmed who provided the information, Muslim young men who helped arrest James came to testify at the police station on the same day.
In the press, a young man named Mohammad said that he and his cousin and friends had seen the perpetrator in Manhattan's East Village area and immediately alerted police, who were only a block away. The police who received this report then went with them and immediately arrested the suspect.
Mohammad's cousins ​​stated that they saw the suspect on the street by coincidence, but they preferred to alert the police because they were concerned that there might be a gun in the bag he was carrying. After the suspect was arrested, the young Muslim who came to the 9th Police Station in the nearby area where he was detained for a while received a thank you from the New York police for helping catch the subway attacker.
Apart from Mohammad and his friends, another Muslim youth from Syria also played a role in leading the police to Frank R. James. He is Zach Tahhan, a 22-year-old Syrian who moved to the United States five years ago.
Tahhan, who works as a security camera technician, said he was working on updating equipment at a shop near St. Marks Place and First Avenue in Manhattan's East Village when he spotted James through one of the security cameras. Tahhan then ran out onto the street to follow the suspect.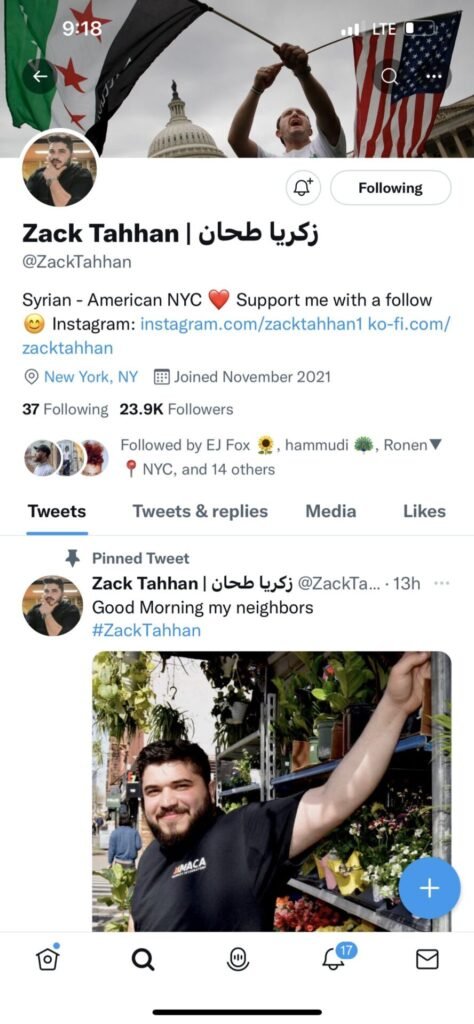 People thought he was crazy like he was on drugs, when he tried to warn those walking around the suspect to keep their distance. But he stated that he did not since he was observing Ramadan fasting.
For his heroic act, the hashtag #ThankYouZack appeared on social media, and many people thanked him and shared clips and videos of his news conference.