Women can now perform hajj without a mahram, Saudi government has made an important announcement during Hajj 2021.
The government ministry announced that people could register Hajj Online. They also added that women are now allowed to register Hajj without a mahram (male guardian).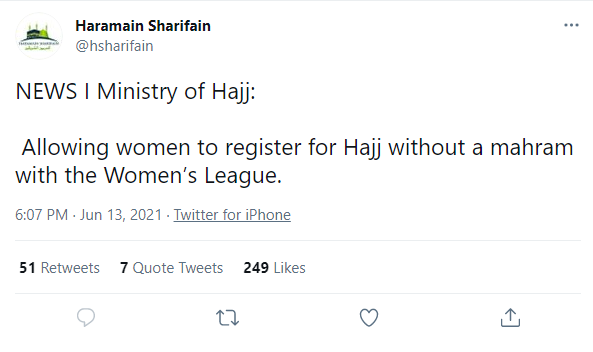 The Ministry has approved three packages of Hajj with prices, starting from $3,230 to $4,436. The price of each package will be added by VAT.
Hajj registration for this year opened from 1 p.m. on Sunday until 10 p.m. on June 23. No priority will be given to the early applicants. This year's cohort would be limited to the citizens and residents of the kingdom, said the government before.
According to the information provided by the Ministry of Hajj and Umrah's Website, pilgrims will be carried to the holy site by bus, with a maximum of 20 pilgrims per vehicle.
Pilgrims will get three daily meals in Mina, and while they were in Arafat, they will get two meals (breakfast & lunch). They will be given dinner in Muzdalifah. There are other food and beverages available, but foods from outside Makkah are not allowed to be brought by the pilgrims.
The application has five stages. First, prospective pilgrims have to review and acknowledging health information and providing personal details based on their official papers.
Second, the applicant's eligibility for Hajj will be verified by the system based on the National information center's data.
Third, after the application got accepted, a registration number for further inquiries will be given to the applicant.
Fourth, the applicant's COVID-19 status will be ensured, such as fully immune, immune by the first dose, or immune after recovery.
Finally, a text message with payment details will be sent out.
The ministry clearing said that registering for Hajj did not mean a final Hajj had been granted. They explain that a Hajj permit will only be issued after an application is found to meet all the mandatory health conditions and regulations.
All applicants must meet the requirements that have been given by the government in advance before sent a request for a Hajj permit.
According to an official ministry tweet, the sorting phase of the Hajj application process starts on June 25. Priority will be given to those who have never performed Hajj before, they added.