On Monday, New York Mayor Eric Adams announced that a significant number of the Bronx fire victims were Muslims, originally from Gambia.
A report said at least 19 people, nine of whom were children, died in a fire at an apartment building that houses African immigrants in the ​​New York borough of Bronx on Sunday.
According to city officials, the fire also injured more than 63 people, 32 of whom were life-threatening. Most of them were Muslim too.
A representative from the Islamic Circle of North America (ICNA) will be working with other Muslim charity groups to help survivors who are almost all Muslims.
List of Muslims Who Lost Their Lives In New York Bronx Fire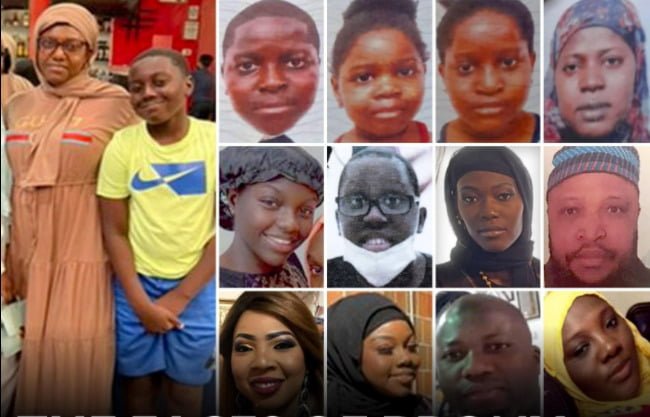 Isatou Jabbie, 31
Hagi Jawara, 47
Ousmane Konteh, 2
Sera Janneh, 27
Seydou Toure, 12
Haouwa Mahamadou, 5
Haji Dukuray, 49
Haja Dukureh, 37
Mustapha Dukureh, 12
Mariam Dukureh, 11
Fatoumata Dukureh, 5
Fatoumata Drammeh, 50
Foutmala Drammeh, 21
Muhammed Drammeh, 12
Nyumaaisha Drammeh, 19
Omar Jambang, 6
Fatoumata Tunkara, 43
Mayor Adams called this incident "a very horrific and painful moment for New York City" and described it as one of the worst fires in the city's recent history.
Mayor Adams encouraged survivors not to be afraid to seek help and assured them that the city would not report the names of building residents seeking government assistance to the Department of Immigration and Customs Enforcement (ICE). Previously survivors did not seek help, afraid they would be deported.
The mayor also said that the city would immediately coordinate with religious leaders to ensure those who died would receive proper Islamic burials.
New York Governor Kathy Hochul said that his party would soon set up a victim's compensation fund. Meanwhile, New York Senator Chuck Schumer pledged to offer housing, tax, and immigration assistance at the federal level.
The New York Times reported that firefighters arrived within three minutes and were immediately confronted with smoke that had covered the entire height of the 19-story building.
According to the New York Fire Commissioner, the smoke conditions were so severe in the building that it was unprecedented for victims to suffer severe smoke inhalation.
He added that many victims were found on every floor and were immediately rescued by the crews by carrying them out in cardiac and respiratory arrest.