According to the Hospital Trust, UK initiated hair covering scarves "Disposable Hijabs," which are sterile and disposable for their hospital staff to support them in their operation theatre processes.
A Muslim Junior Doctor of Royal Derby Hospital, Farah Roslan, came up with this solution during her training. Due to the prevailing concern of infections related to her hijaab worn the whole day, she shared. In those days, she was a medical student of Royal Derby Hospital and Burton NHS Trust, who works at Lincolnshire.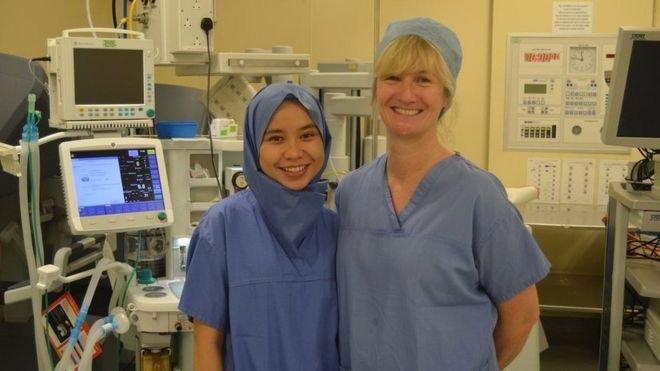 NHS England has planned the idea just for individual trusts whereas the supportive objects were hoped to be utilized nationally.
She quoted that she used to wear a headscarf throughout the day which obviously wouldn't stay clean and hygienic, stated by BBC Radio Derby.
"She didn't feel comfortable taking it off and she was pulled out from the theatre, respectfully, due to infection control."
She wanted a path between concerned work aspects and faith. For motivation and ideas, Farah looked into her birth country to design and test the fabric. She is content with her idea and looking forward to endorsing it throughout England.
Consultant Surgeon Gill Tierney also said that Farah initiated this disposable idea in the UK. The cost of developing it was not high; however, it is hoped that the outcome would be enormous.
further added that it's a silent issue across the country which she doesn't feel is addressed formally.
The disposable sterile headscarves would be implemented and available to use in early December as decided by Burton NHS Trust and University Hospitals of Derby.