Saudi Arabia's Crown Prince Mohammed bin Salman announced new plans for the Rua Al-Madinah (Enchantment of Madinah) Project, which will be built in a location no more than 1,000 meters from the east side of Masjid an-Nabawi, Madinah.
The Crown Prince, the Chairman of the Council for Economic Affairs and Development, said the project aligns with the Saudi Vision 2030.
Capacity for 30 million pilgrims
The large multipurpose real estate development project is planned to help to increase the hosting capacity for Umrah pilgrims to 30 million in the next few years.
According to Arab News, the Rua Al-Madinah project will be developed by the Rua Al-Madinah Holding Company, a company belonging to the Public Investment Fund (PIF), specializing in the development, operation, and investment of real estate in the Holy City of Madinah.
47,000 hotel rooms
This project will be built on an area of 1.5 square meters, with 63 percent of the land will be green open space. It is also planned to build as many as 47,000 hotel rooms and expand the prayer area to be able to accommodate up to 200,000 worshipers per day.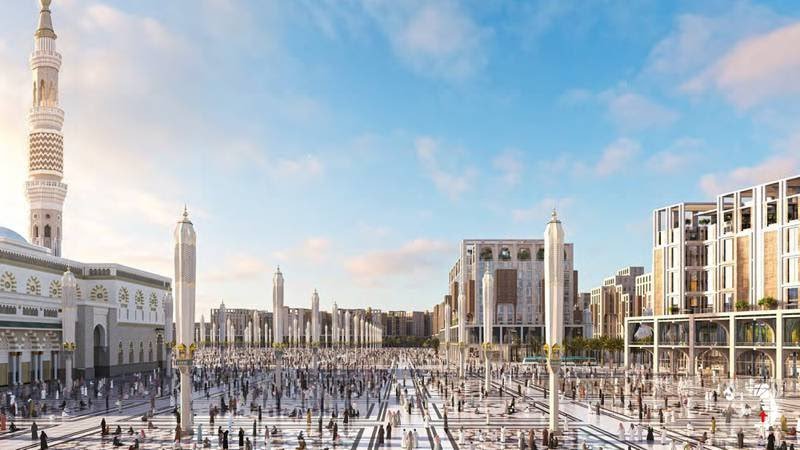 Paying attention to the sacredness of Masjid an-Nabawi, this project will create a comprehensive pedestrian system that is separate from the movement of vehicles, as well as improve public transportation stations at the end of the pedestrian path.
Self-driving vehicles
The real estate that will be developed will also be equipped with nine bus stops, a metro station, lanes for self-driving vehicles, and underground parking. All of these facilities will provide easy access to the mosque and the surrounding commercial housing developments.
As well as providing a number of job opportunities, the project aims to enhance Madinah's status as a pilgrimage destination and modern Islamic culture while improving the quality of life for the city's residents.
Rua Al-Madinah Holding said that the development will revive the city's culture and architecture apart from helping achieve the goals of the Hajj, Umrah, and travel sectors outlined in the Saudi Vision 2030.
The project will feature many important historical monuments to the legacy of Prophet Muhammad SAWW and his companions. At the same time, the unique heritage of this holy city is reflected in the design of all its buildings and facilities.