The Kingdom of Saudi Arabia has made a decision to allow only local Saudi Pilgrims of different nationalities to attend Hajj 1441 in limited numbers. International Hajj 2020 has been CANCELLED.
Ministry of Hajj and Umrah of Saudi Arabia has been chairing a number of meetings to make a decision on Hajj 2020.
Finally, the decision is out, Haramain Sharifain, confirms that the international hajj 2020 has been called off.
Meanwhile, local pilgrims (Saudi residents) were able to perform hajj 2020 but in very specific number.
Meaning, this year's Hajj will be limited in number and the viewers all around the world will see empty places which once used to be filled and jam packed with the Hajj pilgrims.
Major points of the decision made
If you're 65 years or above you won't be able to perform Hajj.
If you have chronic diseases, you won't be able to perform Hajj.
People have to go through high-level testing before they could perform Hajj.
Social distancing will be mandatory.
The health of pilgrims, who are approved to perform Hajj, will have to get their health checked daily.
Pilgrims will be isolated for days after they complete their Hajj.
This is the full state of Ministry of Hajj and Umrah of the Kingdom of Saudi Arabia on Hajj 1441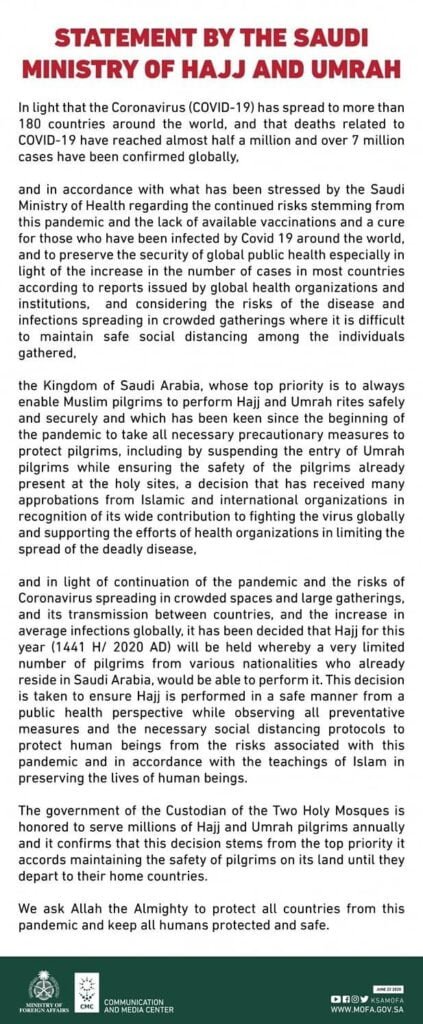 Even before this news broke, 8 countries has already called off their Hajj pilgrims and also refunded their money.
Statement by Sheikh Abdul Rehman Al Sudais, President of the Haramain
Ministry of Hajj and Umrah made a decision to take place Hajj but with a limited number which is our legal duty to keep the health concerns in mind.

Sheikh Abdul Rehman Al Sudais