2022 Pakistan Floods: The Pakistani government has declared a national emergency after heavy rains lashed the country on Friday, August 26. Historic rains started pouring down the country since mid-June, which then caused floods in a number of areas and claimed many lives.
At least 34 people have been reported killed in floods in the last 24 hours in Pakistan. The National Disaster Management Agency (NDMA) reported that more than 900 people have died from flooding since the monsoon rains began in June.
Pakistan's Climate Minister said that more than 33 million people were affected by these historic rains and floods that swept the country. The Climate Minister added that the government is currently struggling to tackle a climate-caused humanitarian disaster of epic proportions.
Pakistan's Prime Minister, Shabaz Sharif, has reportedly asked for international help to deal with the damage caused by deadly floods in the cash-strapped country. PM Sharif said he had met with foreign diplomats in the capital, Islamabad, to discuss the damage caused by the floods.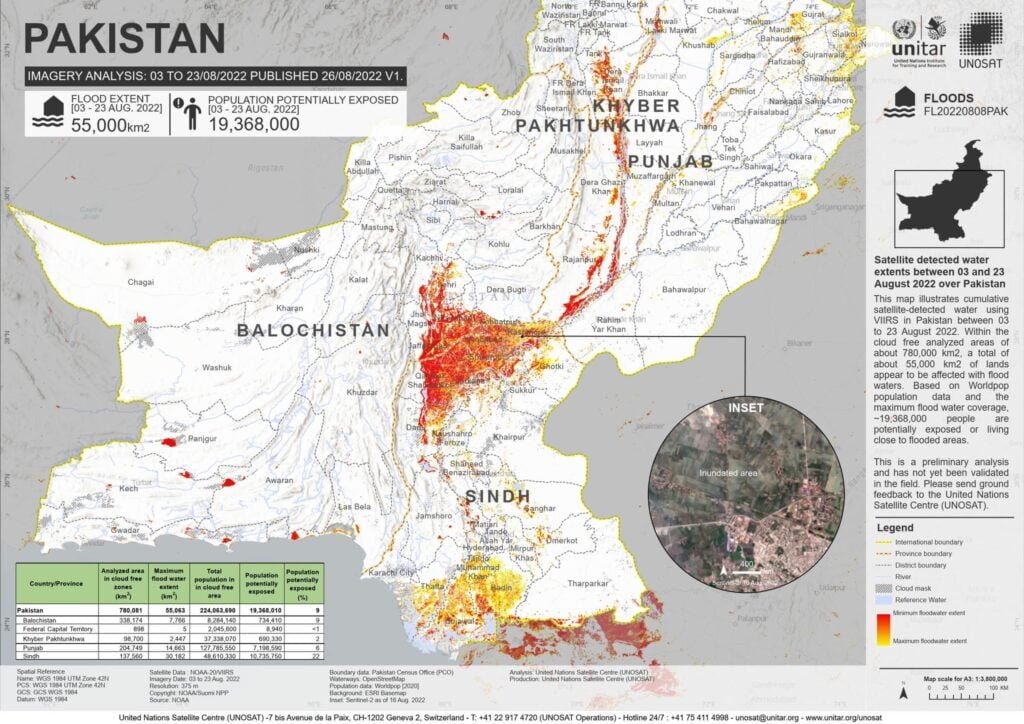 In a statement issued on Thursday, the United Nations said it had allocated $3 million to its aid agencies and partners in Pakistan to mitigate the effects of the floods. The same statement explains that the aid funds will be used for health, nutrition, food security, and water and sanitation services in flood-affected areas with a focus on the most vulnerable.
Meanwhile, local Pakistani officials said that this year's flooding is comparable to that of 2010, the worst flood in Pakistan's history, in which more than 2,000 people died and nearly a fifth of the country was submerged.
Since summer began, several cycles of monsoons have hit Pakistan, resulting in massive floods that destroyed at least more than 400,000 homes across the country and forced at least 184,000 people to evacuate to relief camps.
According to Rehman, the real challenge right now is saving lives and arranging tents and food for the affected people. Rehman said that local authorities were asking for one million tents to accommodate them.
Pakistan's Minister of Planning and Development Ahsan Iqbal noted that around 30 million people or about 15% of Pakistan's population have been affected by this natural disaster.
The two worst-affected provinces are Balochistan and Sindh – which received 298mm of rain and 689mm of rain respectively this year, which is about 400 percent more than the 30-year average.