The United States, the United Kingdom, and the European Union voted against a UN resolution condemning Quran burnings and calling on states to ban them.
In Geneva, the UN Human Rights Council passed a resolution sponsored by Pakistan this morning, but several Western countries objected.
It is referred to in the resolution as "It is offensive, disrespectful, and clearly a manifestation of religious hatred to intentionally burn the Holy Quran or any other holy book with the intent of inciting hatred, hostility, or discrimination, and affirm that in accordance with international human rights law, this act will be prohibited by law."
At the 53rd regular session of the UN Human Rights Council, 28 countries voted in favor, 12 voted against, and seven abstained.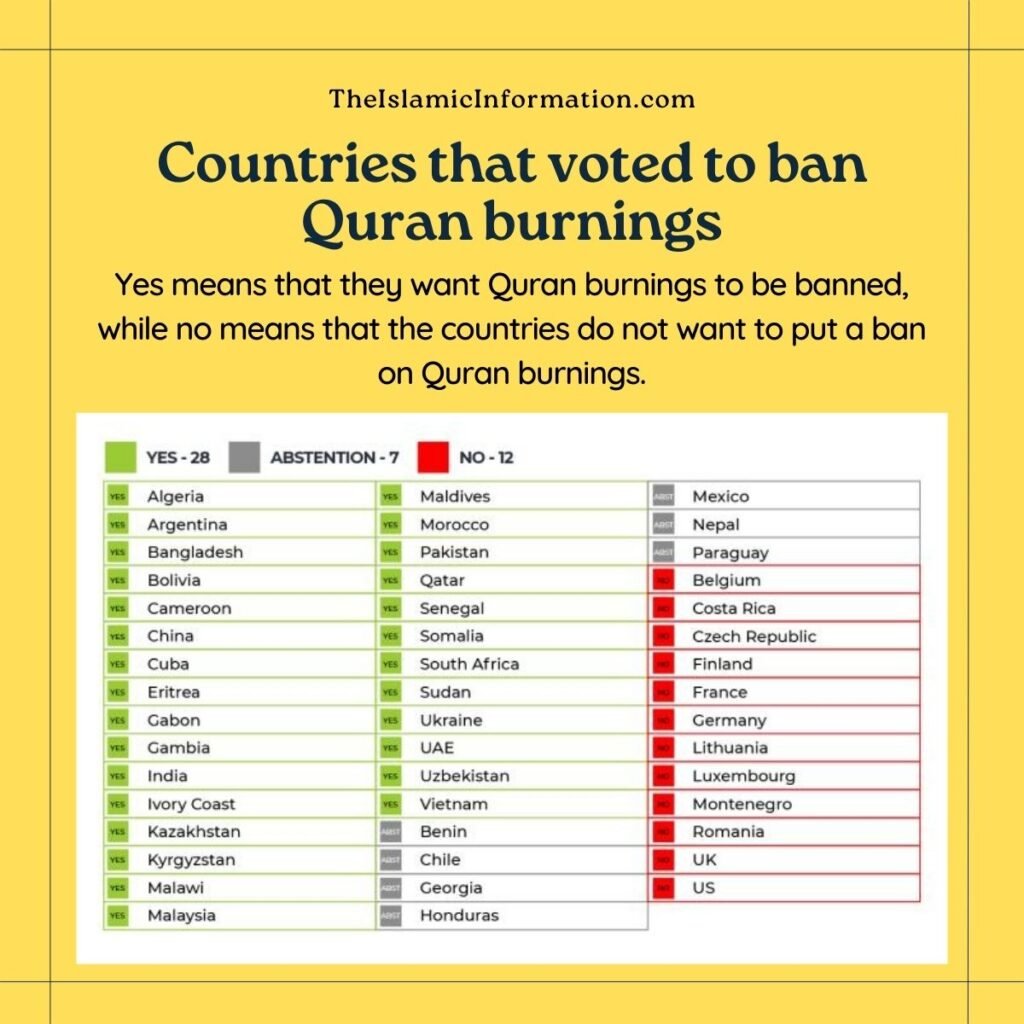 The following countries voted in favor of the resolution:
Algeria
Argentina
Bangladesh
Bolivia
Cameroon
China
Ivory Coast
Cuba
Eritrea
Gabon
Gambia
India
Kazakhstan
Kyrgyzstan
Malawi
Malaysia
Maldives
Morocco
Pakistan
Qatar
Senegal
Somalia
South Africa
Sudan
Ukraine
United Arab Emirates
Uzbekistan
Vietnam
The following countries voted against the resolution:
Human rights and freedom of expression are at odds with the resolution, according to the United States and the European Union.
"From experience, we know that banning such expression usually only amplifies it further by drawing even more attention to it and often serves as a catalyst for further hatred,"

Rashad Hussain, U.S. ambassador at large for international religious freedom, expressed opposition to so-called "blasphemy" laws.
The U.S. ambassador to the council, Michele Taylor, expressed strong condemnation of the acts that led to today's discussion, including the desecration of the Holy Quran on June 28 — referring to an incident in Sweden last month that sparked protests around the world.
Aspiring to strike a "prudent balance" between the right to free speech and "special duties and responsibilities," Ambassador Khalil Hashmi of Pakistan insisted after the vote.
Some members of the audience oppose the desecration of any religious book or the Holy Quran due to their unwillingness to condemn that act," Hashmi said. "They lacked the political, legal, and moral courage to condemn this act, which was the minimum they could have done."
Volker Turk, the UN High Commissioner for Human Rights, said yesterday: "This urgent debate has been prompted by recent incidents of burning of the Quran, which is the core of faith for more than one billion people." It seemed that these and other incidents were manufactured to express contempt and provoke anger, drive wedges between people, and provoke, turning differences of perspective into hatred and violence."
The limitation of speech or expression should remain an exception, he said, since laws that restrict speech are often misused by those in power, including to stifle debate on critical issues. On the other hand, in certain circumstances, a speech could constitute an incitement to violence or discrimination on the part of others.
Incitement to violence, discrimination, and hostility should be prohibited in every state, he said.