Shazada Dawood and his 19-year-old son Suleman Dawood were declared dead after 4-day long search deep in the ocean, authorities confirmed.
In a sad incident, two Muslims have been confirmed dead in the Titan submarine accident. A submarine searching for the Titanic wreck site got lost and could not arrive on time, resulting in a frantic search.
Two people named Shazada and Suleman Dawood were among the passengers aboard the ill-fated Titan submarine. Their dream of seeing the wreckage of the famous ship ended tragically when authorities confirmed their death.
Where was Titan Submersible Wreckage Found?
A search operation supported by Canadian Airlines and led by US Coast Guard began after the disappearance of the submarine.
Though the search area is difficult to navigate as it spans thousands of kilometers on the surface and 3.4 miles below the ocean floor the people are still hopeful for some progress. However, no progress has been made even with the use of the most advanced underwater types of equipment.
The Crew of 5 declared dead by US Coast Guards and OceanGate
US Coast Guards Found The Wreckage
Rescue expert David Mearns, who is friends with two Titan passengers, said the debris found in the search was "a landing frame and a rear cover from the submersible".
The sad news of the deaths of two Muslims once again underscores the seriousness of the situation. The family and friends of Shazada and Suleman Dawood are deeply saddened by this tragic loss.
There are concerns about the safety of Titan submarines. The ship's owner, Oceangate, has previously been warned about its safety practices.
Experts question whether the submarine met the required standards and whether its experimental equipment was involved in the accident.
The Oceangate founder, who was reportedly on board during the tragic voyage, criticized the regulations governing the commercial submarine industry. He believes excessive security measures are stifling innovation and progress.
Despite the difficulties and dwindling hopes, authorities and rescue teams continue their search and rescue operations. They are determined to find all the survivors, even if time runs out.
The loss of the wealthiest people of Pakistan Suleman Dawood and his son Shahzada presents an alarming situation of the risks involved in deep sea exploration and the importance of safety regulations.
With time passing and investigations taking place to find the root cause of this accident, the international forum mourns the loss of the team and expresses its heartfelt condolences to the families.
When did the communication was cut off?
During Titan's dive to the wreck site, communication was lost after one hour and 45 minutes. Upon its failure to resurface later that day, authorities were alerted.
The place where the Titan Submersible was imploded?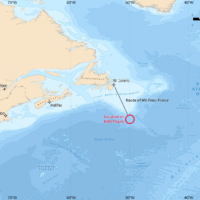 The submarine was imploded near the Titanic wreckage.
How did Titan Submersible blast?
All of Titan's occupants died immediately after Titan's pressure vessel imploded shortly after it began its descent.