Sheikh Dr. Abdul-Rahman bin Abdulaziz Al-Sudais, General President for the Affairs of the Grand Mosque and the Prophet's Mosque, has inaugurated the electric carriages to transport elderly worshippers and pilgrims at the grand mosque, Masjid al-Haram.
The inauguration of electric carriages vehicle will make the pilgrimage and transportation easy for elderly people.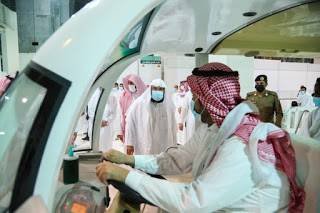 These vehicles will be sterilized continuously to protect the pilgrims from the ongoing pandemic.
Sheikh al Sudais also allocated the entry and exit points for the pilgrims who wish to use it.
The management of Masjid al-Haram is constantly working to bring more ease to the guests of Allah.