All over the world, Muslim women are creating wonders, and nothing can stop them. An incredible woman naming Zahra Lari is the first hijabi woman who became an international figure skater.
Zahra, who is now 25, is representing her country UAE. In 2012, she started as a professional skater just at the age of 17. She used to perform by adjusting her outfits with a matching headscarf with it.
The judges of the competition subtracted her marks just because she used to dress up differently. Later, lari changed the skating union rules only so her cultural diversity can be known all across the board.
To bring changes in international skating rules, Lari is now working in the International Skating Union rules to welcome the hijabi Muslim women freely on the ice.
Zahra Lari belongs to Abu Dhabi, which is located in the UAE. Zahra's mother belongs from North Carolina. After meeting Zahra's Emirati father at a university in Atlanta, she converted to Islam, which is located in Georgia.
At the age of eleven, Zahra was inspired and tried to skate after watching the Disney film Ice Princess, and at the age of 13, she started skating lessons. Currently, Zahra is a student at the University of Abu Dhabi, and she's studying environmental health and safety. Zahra aims to continue her career as a skating coach. She was also included in a Nike, Inc. Advertisement that features Muslim women athletes in 2017.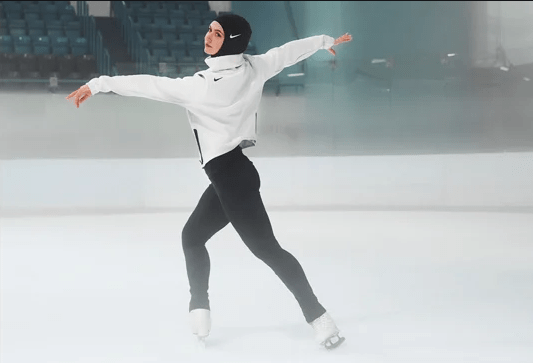 Zahra Lari is a practicing Muslim, and she is the first hijabi figure skater. She is an inspiration to other younger women.
Zahra's father now has an Emirates Skating Club, the first official club located in the UAE. He is also the cofounder. She is the first Arab skater who is an international competitor and wears a hijab.