On the sidewalks and pathways that pilgrims frequent during their visit to the Prophet's Mosque, the Madinah Region Development Authority (MDA) has installed smart devices that automatically release fragrant aromas into the air.
On the northern side of the mosque, innovative air fresheners are also placed near seating areas near stores.
The Saudi Press Agency has monitored Humanizing Cities initiatives and projects implemented by the authority. Visitors to the Prophet's Mosque will benefit from these scenes;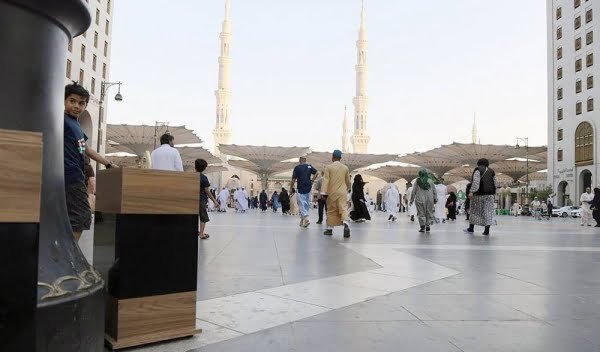 The authority is working on these projects to improve the urban landscape around the mosque. Pilgrims and visitors are aiming to make it an attractive place to visit.
For the new projects in the central area, heat-resistant materials were used, trees were planted alongside roads, benches and seating areas were constructed, and non-heat-absorbing marble was used for sidewalks and pedestrian pathways.
To maintain cool temperatures, unauthorized public vehicles cannot enter the central area. There are no restrictions on pedestrian movement between the hotels and mosque courtyards in the area.
On the northern, southern, and western squares of the mosque, 245 umbrellas with misting fans cool open spaces. All these efforts are made to ensure a healthy and safe environment for pilgrims and visitors.