Citizen Rokaya Al-Ahmad Riyadh: Under one of the bridges of Jeddah, this child devoured the land, to earn his living from selling his dreams of color, without extending his hand begging, but relying on himself, and reconcile the Almighty.
"The young people have a simple dream," said Sakina El-Simhis, a resident of the city of Jeddah. Fragile as a piece of biscuits, as colorful as a rainbow, and fresh as their first smile. "
The singers agreed with the media, commenting on her admiration, that the picture reflects the meaning of "struggle," Sobhan knew the right way, while Professor Samira Abu Shamat, "wonderful this child, and what he does, did not beg, but earn from the work of his hand as he said Our Messenger peace be upon him. "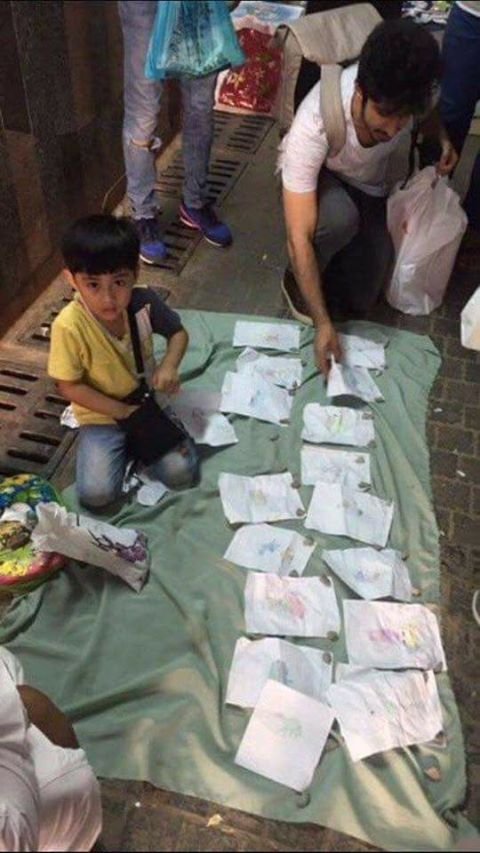 He stressed that the image is of human value, which the dear Sikina chose to say that man, whether as a child or as a kala, is the real value in life, and considered the Star of Jizani as "a minor who does not support this child, his courage and his courage deserve respect."
The owner of the original photo, revealed that the child's place, in the neighborhood of the oppressed in Jeddah, while the singers demanded, adopt this child, and his talent and courage to challenge life.
Watch this Kid selling his Simple Drawings in the streets of Jeddah;
For his part, President of the Saudi Association for Culture and Arts, Media Advisor Sultan Al-Bazai, discussed the place of the child, who captured the hearts with his innocent drawings and his attempt to fight time in order to reach the dream.