The blessed month of Ramadan is nearly here.
Ramadan is one of the most significant months in Islam as it was the month where the Holy Prophet (PBUH) expected the first exposure from God. It is also the month when the latter verse of the Holy Quran was discovered.
Every year, billions of Muslims throughout the world fast throughout the month of Ramadan at diverse times and for dissimilar durations. Dependent on where you live, you might have to fast wherever from 20 hours or just 11 hours.
Want to see more? Here is the number of hours Muslims are obligatory to fast in different countries across the globe.
Longest Fast Duration All Around (Ramadan 2021)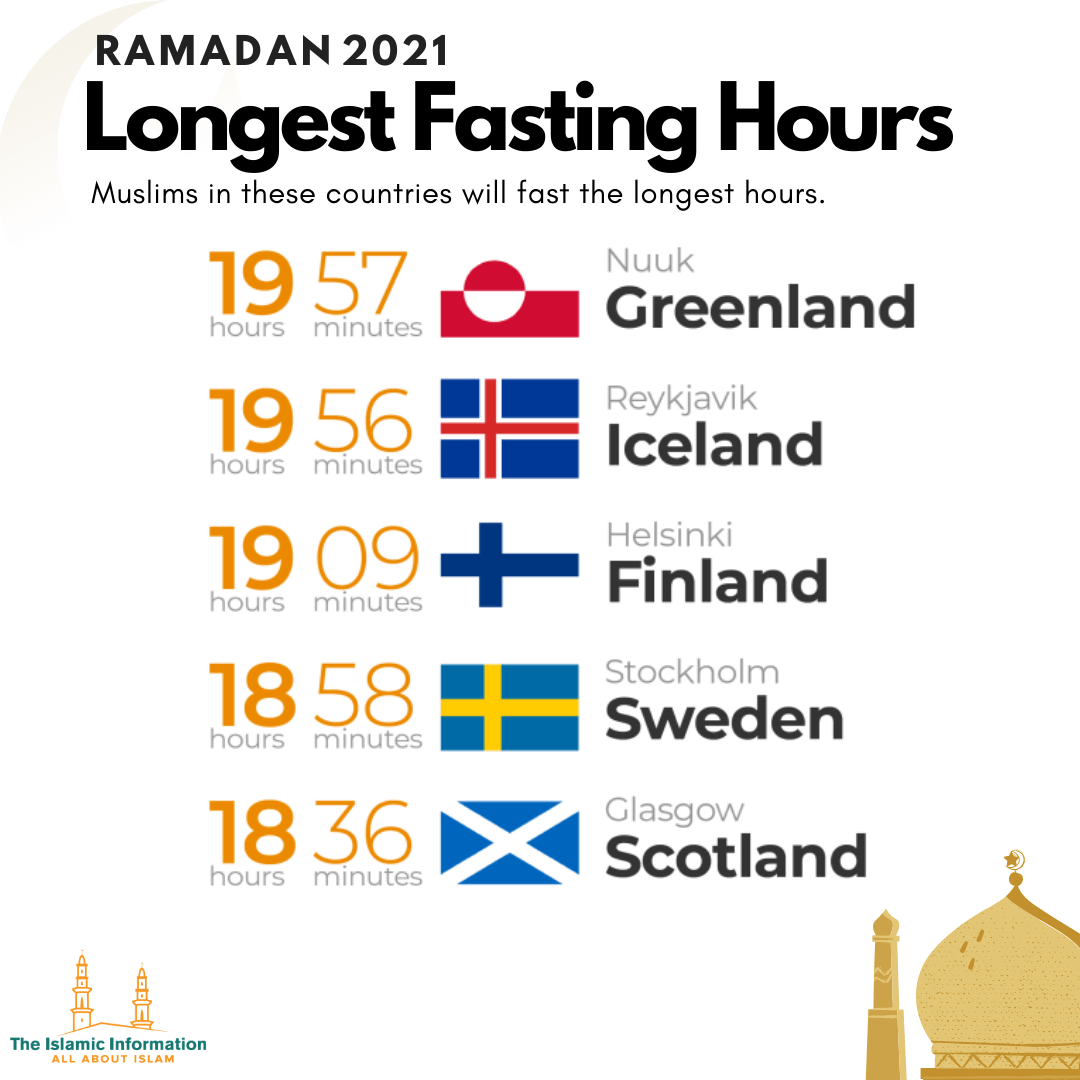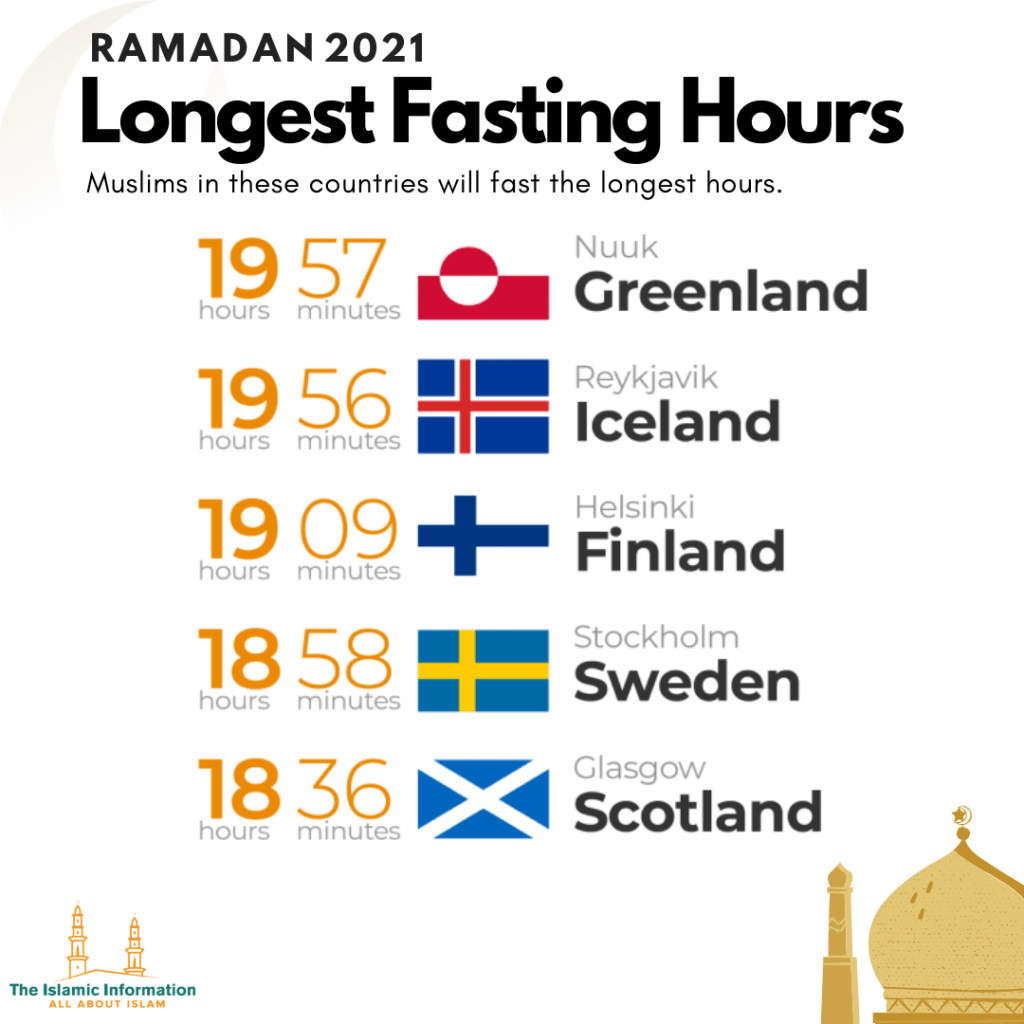 Warsaw (Poland) – 16 to 17 hours
London (UK) – 16 to 17 hours
Paris (France) – 16 to 17 hours
Nur to Sultan (Kazakhstan) – 16 to 17 hours
Brussels (Belgium) – 16 to 17 hours
Zurich (Switzerland) – 16 to 17 hours
Bucharest (Romania) – 15 to 16 hours
Ottawa (Canada) – 15 to 16 hours
Sofia (Bulgaria) – 15 to 16 hours
Rome (Italy) – 15 to 16 hours
Madrid (Spain) – 15 to 16 hours
Lisbon (Portugal) – 15 to 16 hours
Athens (Greece) – 15 to 16 hours
Beijing (China) – 15 to 16 hours
Washington DC (US) – 15 to 16 hours
Pyongyang (North Korea) – 15 to 16 hours
Ankara (Turkey) – 15 to 16 hours
Rabat (Morocco) – 14 to 15 hours
Tokyo (Japan) – 14 to 15 hours
Islamabad (Pakistan) – 14 to 15 hours
Tehran (Iran) – 14 to 15 hours
Baghdad (Iraq) – 14 to 15 hours
Beirut (Lebanon) – 14 to 15 hours
Damascus (Syria) – 14 to 15 hours
Cairo (Egypt) – 14 to 15 hours
Jerusalem – 14 to 15 hours
Kuwait City (Kuwait) – 14 to 15 hours
Gaza City (Palestine) – 14 to 15 hours
New Delhi (India) – 14 to 15 hours
Hong Kong – 14 to 15 hours
Dhaka (Bangladesh) – 14 to 15 hours
Muscat (Oman) – 14 to 15 hours
Kabul (Afghanistan) – 14 to 15 hours
Riyadh (Saudi Arabia) – 14 to 15 hours
Doha (Qatar) – 14 to 15 hours
Dubai (UAE) – 14 to 15 hours
Aden (Yemen) – 13 to 14 hours
Addis Ababa (Ethiopia) – 13 to 14 hours
Dakar (Senegal) – 13 to 14 hours
Colombo (Sri Lanka) – 13 to 14 hours
Bangkok (Thailand) – 13 to 14 hours
Khartoum (Sudan) – 13 to 14 hours
Kuala Lumpur (Malaysia) – 13 to 14 hours
Singapore) – 13 to 14 hours
Nairobi (Kenya) – 13 to 14 hours
Luanda (Angola) – 12 to 13 hours
Jakarta (Indonesia) – 12 to 13 hours
Shortest Fast Duration All Around The World (Ramadan 2021)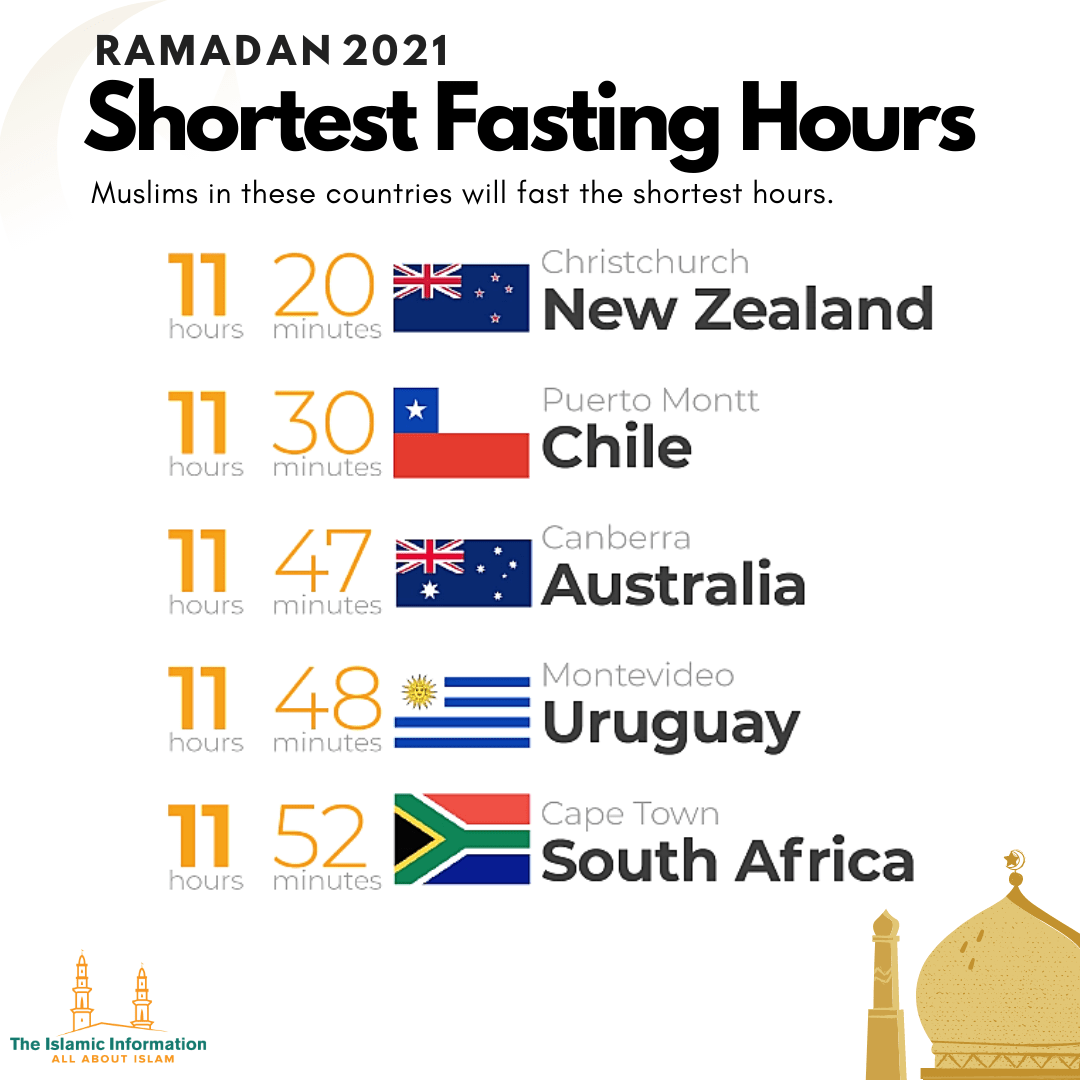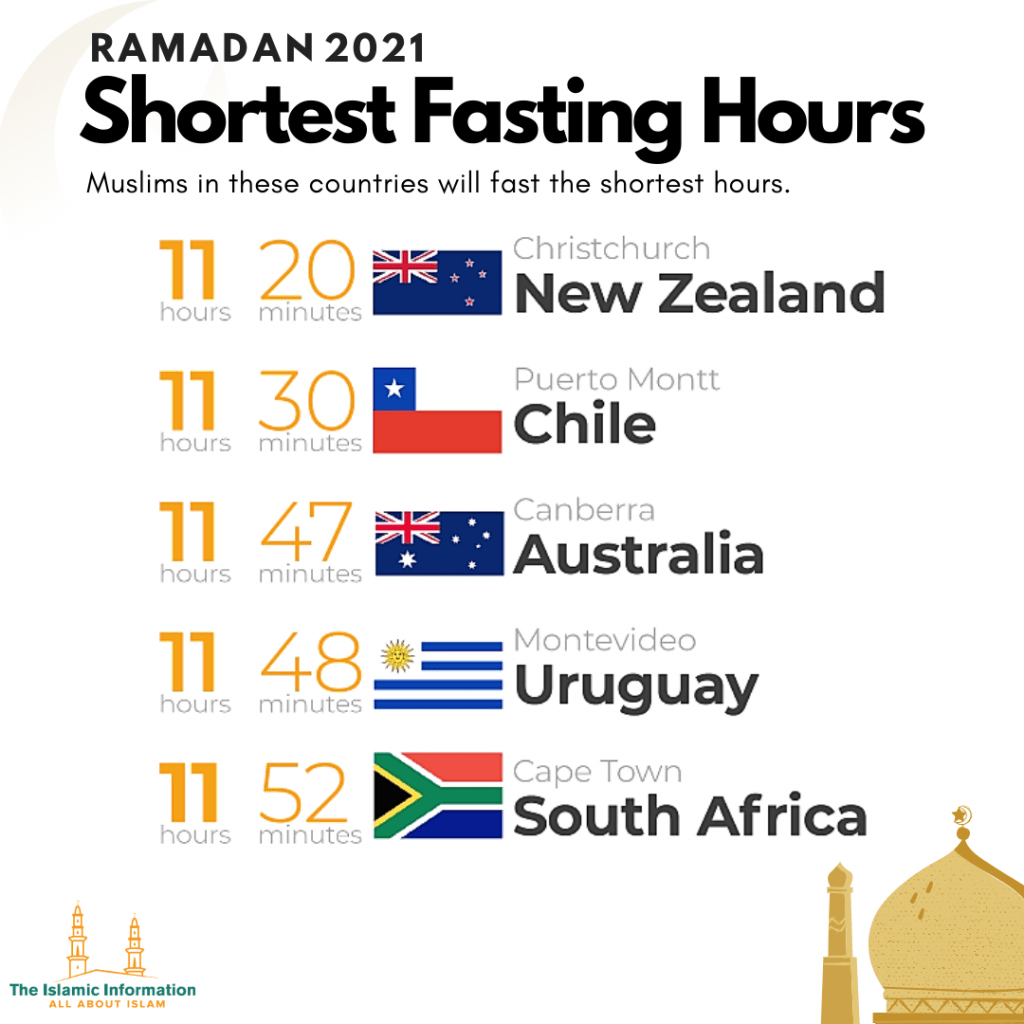 Brasilia (Brazil) – 12 to 13 hours
Harare (Zimbabwe) – 12 to 13 hours
Johannesburg (South Africa) – 11 to 12 hours
Buenos Aires (Argentina) – 11 to 12 hours
Cape Town (South Africa) – 11 to 12 hours
Christchurch (New Zealand) – 11 to 12 hours
Ciudad del Este (Paraguay) – 11 to 12 hours
Montevideo (Uruguay) – 11 to 12 hours
Canberra (Australia) – 11 to 12 hours
Puerto Montt (Chile) – 11 to 12 hours
Fasting hours all around the world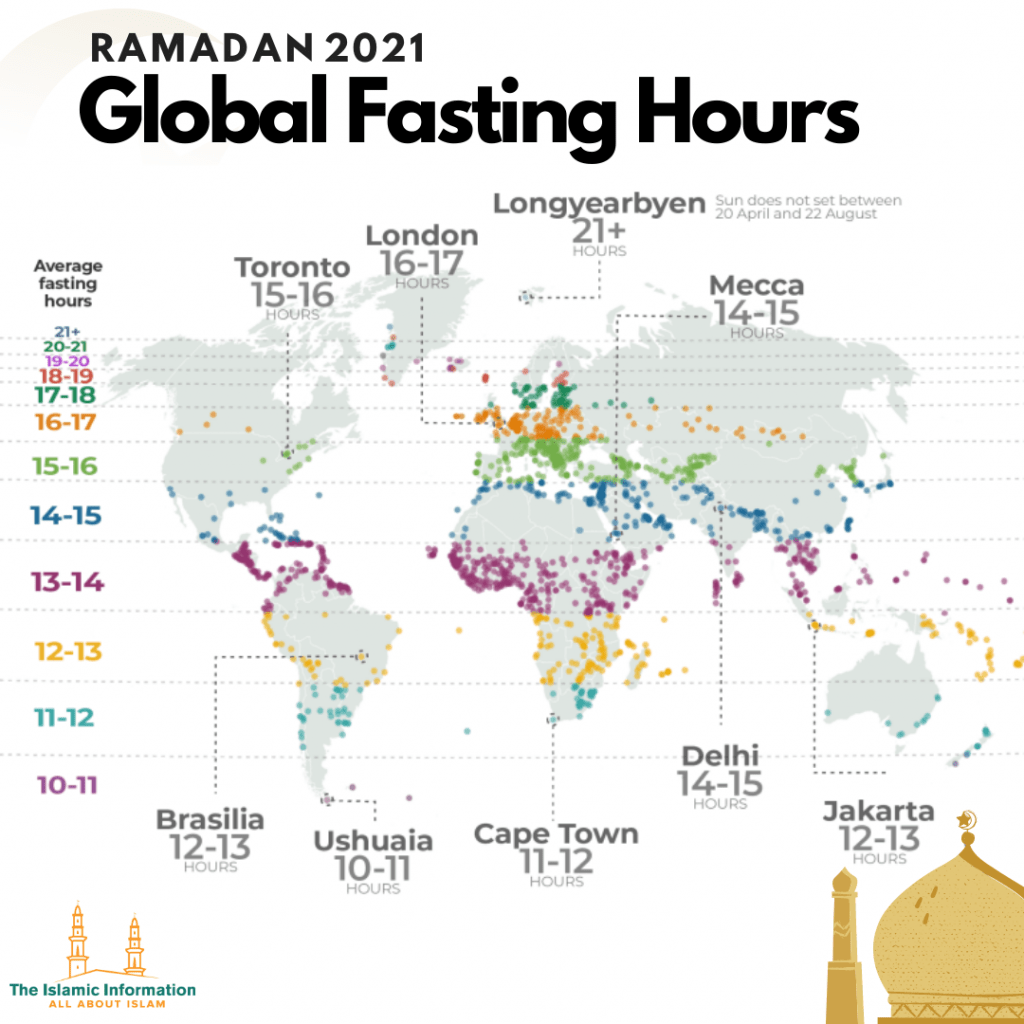 RELATED POSTS