It is believed by most of the people across the world that Prophet Adam AS was the first human being on Earth. However, most of the people do not know this but the first footprint of Prophet Adam AS can still be found in Sri Lanka.
That footprint is extending sharply towards the sky starting from the jungle of Sri Lanka is the 7000+ feet higher of Sri Pada. moreover, it is known as the Holy Footprint.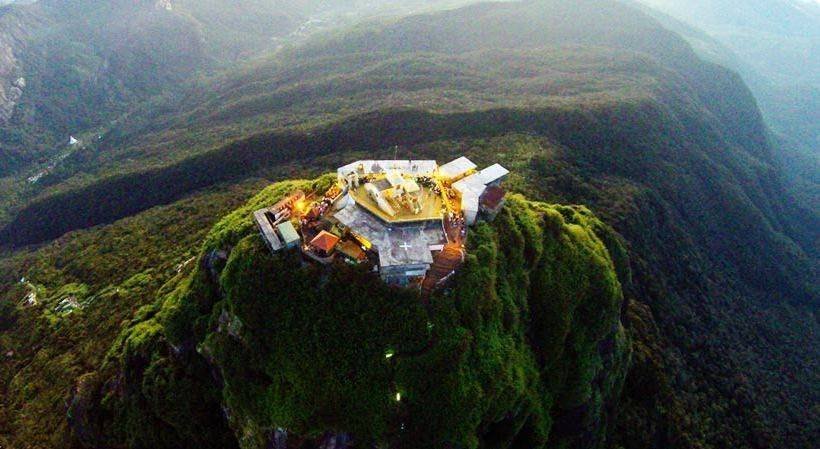 This peak is considered Holy by the 4 major religions on earth; Buddhism, Christianity, Islam, and Hinduism. This peak is firmly known as Adams Peak.
Is Adams PeakIt is the highest peak in Sri Lanka?
When Prophet Adam AS was expelled out from Heaven, he was placed on the top of the mountain by Allah SWT so the shock can be minimal, as reported.
It was named the highest peak in the world because Early Arab seamen were amazed by it even though it is not the highest one in Sri Lanka.
These days many people visit the mountains as a religious journey. The peak time for the religious journey is mainly from December to April.
There is a small Buddhist Temple and the saman shrine which holds a massive footprint on the top of the mountain.
The size of Prophet Adam AS footprint
The size of Prophet Adam AS footprint was said to be 60 cubits tall and the footprint was 5'7'' by 2'6''.
Since for the final migration, a bunch of butterflies travels every year on the mountain top but they die eventually on the mountaintop so that's why the Adams peak is also known as Samanalakande which is translated to the 'butterfly mountain'.
Is the grave of Prophet Adam AS present in Sri Lanka?
According to the literature, Prophet Adam AS took his last breath at the foot of Mount Qubais in Makkah.
Reference: Atlas of the Quran – Dr. Shauqi Abu Khalili