The Agency for the Affairs of the Prophet's Mosque, under the General Presidency for the Affairs of the Two Holy Mosques, has put back the Zamzam water containers in their old positions to serve worshippers and visitors and certainly accompanied by adequate precautionary measures to prevent the spread of the coronavirus.
In early 2020, the Presidency stopped using the Zamzam water containers for the safety of the worshippers in the midst of the emergence of the Covid-19 pandemic.
They assigned workers and even automatic robots to distribute the holy water sealed and sterilized in single-use bottles throughout the area around the Prophet's mosque.
The Zamzam Watering Department has analyzed various Zamzam water samples with advanced technology to ensure Zamzam water is safe and free from contamination.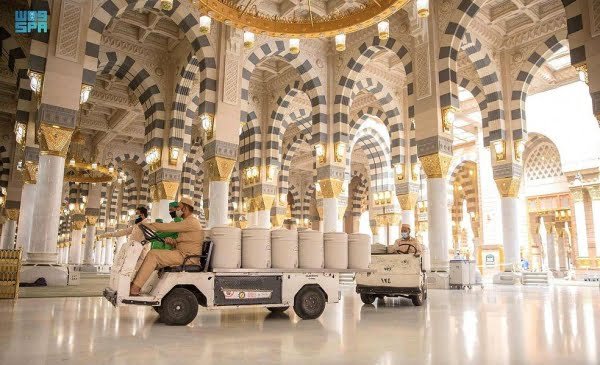 Abdul Rahman Al-Zahrani, director of the department, said that the Zamzam laboratory is an important element tasked with ensuring the quality and safety of Zamzam water.
He mentioned that the laboratory is equipped with the latest technology devices and instruments and a specialized technical staff that takes random samples every day from Cylinder-like containers and smart carts.
The department is conducting the necessary tests and washing and sterilizing tanks, containers, and taps, as they strive to achieve the highest quality standards.
The number of samples collected for the year 1442 H reached more than 7,380 samples. These samples were taken from various places, including Zamzam Well, filling points, drinking spots, water tanks, cooling stations, and even portable Zamzam water bags inside the Haram Mosque and its squares.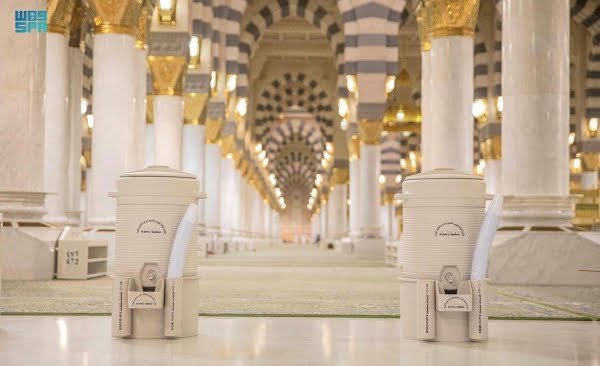 To ensure its quality, Zamzam water must be filtered with highly advanced sterilization methods and devices. It is sterilized using a state-of-art sterilization system that uses ultraviolet rays to kill bacteria and viruses and ensure a high sterilization level.
This laboratory also has a microbiological device to incubate bacteria and their growth in the fastest time, which aims to ensure the safety of the Zamzam water network and make it free of microbes and pollutants, said Al-Zahrani.