The latest documentation from the United Nations' World Food Program (WFP) revealed on Sunday that there are many cases of families in Yemen suffering from starvation and forced to eat tree leaves to survive as the Saudi-led war continues to affect civilian lives in the worst possible way.
WFP says that the wave of hunger in Yemen is increasing amid the Arab country's conflict and economic decline.
Attaching a photo of a Yemeni civilian cooking leaves, WFP's Twitter account explains that families in some of the worst-hit areas of Yemen, like Hajjah, in northwest Yemen, are forced to resort to desperate measures such as boiling tree leaves to survive.
Yemen's Ministry of Health said that in the first six months of 2018, the province of Hajjah recorded 17,000 cases of severe acute malnutrition.
The acute malnutrition that afflicts the area can be easily seen in excruciatingly thin the local toddlers, eyes bulging with papery skin stretched tight over pencil-like limbs and knobby knees.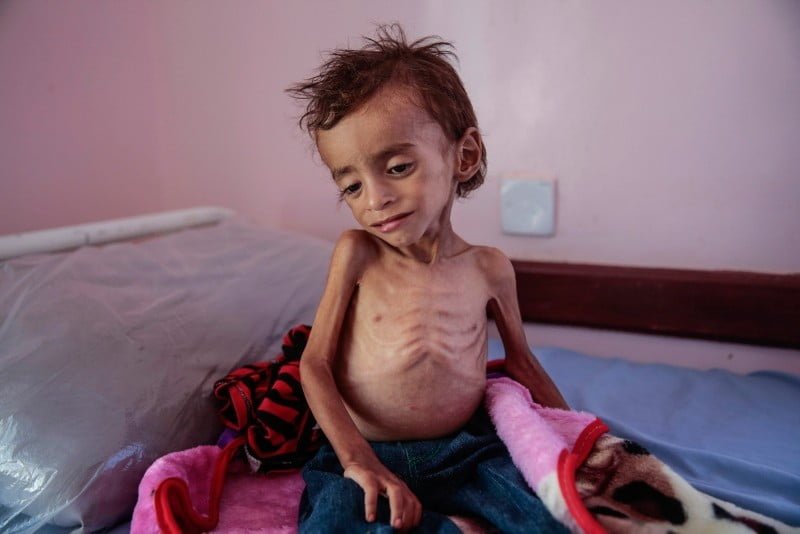 Last month, the UN humanitarian organization said that a shortage of funds prompted it to reduce food assistance to war-torn Yemen starting in January.
According to data compiled by WFP, it is revealed that more than 16 million Yemenis, which means half of the country's population, suffer from acute hunger, while 2.3 million Yemeni children are at risk of malnutrition.
Yemen has been beset by violence and instability since 2014, when the Iran-aligned Houthi rebels seized large parts of the country, including the capital Sanaa.
The Saudi-led coalition aiming to restore Yemen's government has only exacerbated the situation, causing one of the world's worst humanitarian crises that the UN estimates have left nearly 80% or around 30 million people in need of humanitarian aid and protection while more than 13 million people in danger of starvation.