Saudi authorities have officially released a list of imams who will lead Taraweeh and Tahajjud prayers at the Masjid Al Haram, Makkah during this year's Ramadan. The list of imams was released via Haramain Sharifain's official Twitter account on March 23.
Names of Imams For Taraweeh and Tahajjud at Masjid al Haram
Here are the names of 6 imams who will lead Taraweeh and Tahajjud prayers at the Masjid Al Haram during the holy month of Ramadan 2022, which will begin in early April:
Sheikh Abdullah Awad Al Juhany
Sheikh Abdur Rahman Al Sudais
Sheikh Saud Al Shuraim
Sheikh Maher Al Muaiqly
Sheikh Sheikh Yasir Al Dawsary
Sheikh Bandar Baleelah
Based on the released list of imams, it can be concluded that no guest imams were appointed this year.
Meanwhile, the information regarding the distribution of leading prayers or when these imams will lead Taraweeh during the month of Ramadan has also been published by Haramain, which is as follows.
Taraweeh Schedule for Masjid Al Haram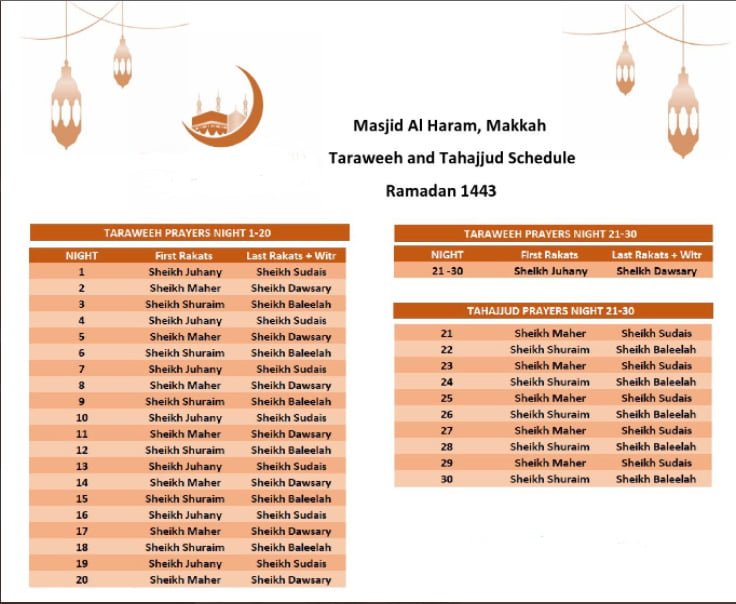 Previously, Muslims around the world had been overjoyed to receive the good news that the Taraweeh prayers at the Masjid Al-Haram and the Masjid An Nabawi during this year's Ramadan could be performed with full attendance. The General Presidency for the Affairs of the Two Holy Mosques announced that both local and international visitors are allowed to perform Taraweeh in the Two Holy Mosques.
This good news is warmly welcomed by Muslims all over the world considering that in 2021, Taraweeh prayers at the Haram Mosque were limited to the general public and only allowed to be performed by a few people, including the management of the Masjid Al-Haram as well as local Saudi citizens because at that time the government imposed a lockdown and prohibited international visitors from entering the holy mosques to prevent the spread of the coronavirus infection.
Worshippers who will attend Taraweeh prayers at Masjid Al-Haram and Masjid An Nabawi are also no longer required to follow precautionary measures and social distancing. They just need to show their "immune" status in the Tawakkalna app before entering the Two Holy Mosques'.