Israel continues to strike central Gaza with the deadly airstrikes, death toll has now crossed over 230, 65 among the dead are children.
UPDATE 21/5/21 – 12:12PM:
After 11-days of deadly conflict, which caused 232 Palestinian innocent lives, Israel and Hamas have agreed to end the conflict over international pressure.
Office of Israeli Prime Minister Benjamin Netanyahu announced that the cabinet had approved the ceasefire as proposed by Egypt on Thursday.
The ceasefire came after the US president Joe Biden told Netanyahu that he wants "de-escalation"
---
UPDATE 19/5/21 – 02:48PM:
Wafa news agency confrims the arrest of 21 Palestinians in occupied West Bank.
50 schools in Gaza destroyed, impacting a total of 41,897 children.
---
UPDATE 17/5/21 – 10:09AM:
Prime minister Benjamin Netanyahu said that they will enter Gaza will full force.
---
UPDATE 12/5/21 – 8:16PM: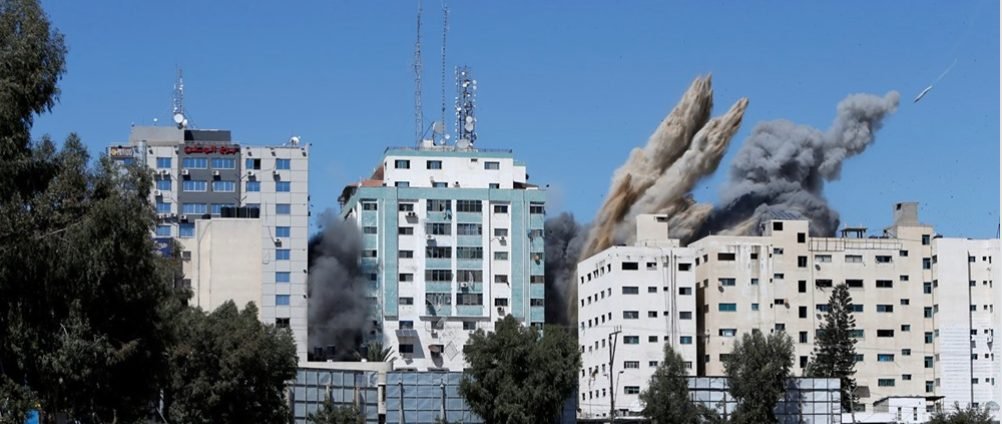 Al Jazeera and AP's offices in the Jala Tower have destroyed by an Israeli airstrike in Gaza.
Muslim leaders have been calling this act a step to silence media coverage in Gaza.
The entire building has evacuated.
The health ministry of Palestine yet to confirm any deaths and injuries.
60 Residential apartments also destroyed in the air strike.
---
UPDATE 12/5/21 – 1:54PM:
Total deaths in Palestine from Israeli air strikes have injured more than 1,000 civilians.
Civilians of Gaza have start fleeing the city as the Israeli airstrikes target civilian population.
According to the United Nations, At least 10,000 Gazans have fled the city due to the unrest.
---
The death toll has been reported by Palestinian health minister, Dr Mai al-Kaila.
An 157 Plaestiians are wounded in the latest Israeli airstrike, confirms ministry of health.
A total number of 1,000 Palestinians have been injured in just 3 days of skrimishes. More than 200 in critical condition.
The air strikes were carried out after Hamas fired several strikes at Israel. The tensions are gorwing at the Al Aqsa Mosque.
Ilhan Omar, US Congresswoman calls the Israeli Air strickes an "Act of terrorism".
United States Secretary of State, Antony Bliken have urged both Palestinians and Israel to calm the tensions. Israeli security forces attacked Al Aqsa again today at 21:00 GMT, according to Al Jazeera.
Meanwhile, Germany has refused to condemn Israeli attack on Al-Aqsa mosque, which left thousands of people injured followed by an Air Strike.
The kingdom of Saudi Arabia has also condemned the terror attack by Israel on Al-Aqsa mosque.
Forign Ministry of Saudi Arabia posted on Twitter;