Air Conditioned Umbrella is a REAL THING now! Saudi Engineer created "Makkah Umbrella" with Air Condition in It to ease the heat.
Saudi Engineer, Mohammed Hamid Sayegh created "Makkah Umbrella" which runs on solar panel and batteries so that pilgrims can stay hydrated during the heat of over 40c this Hajj.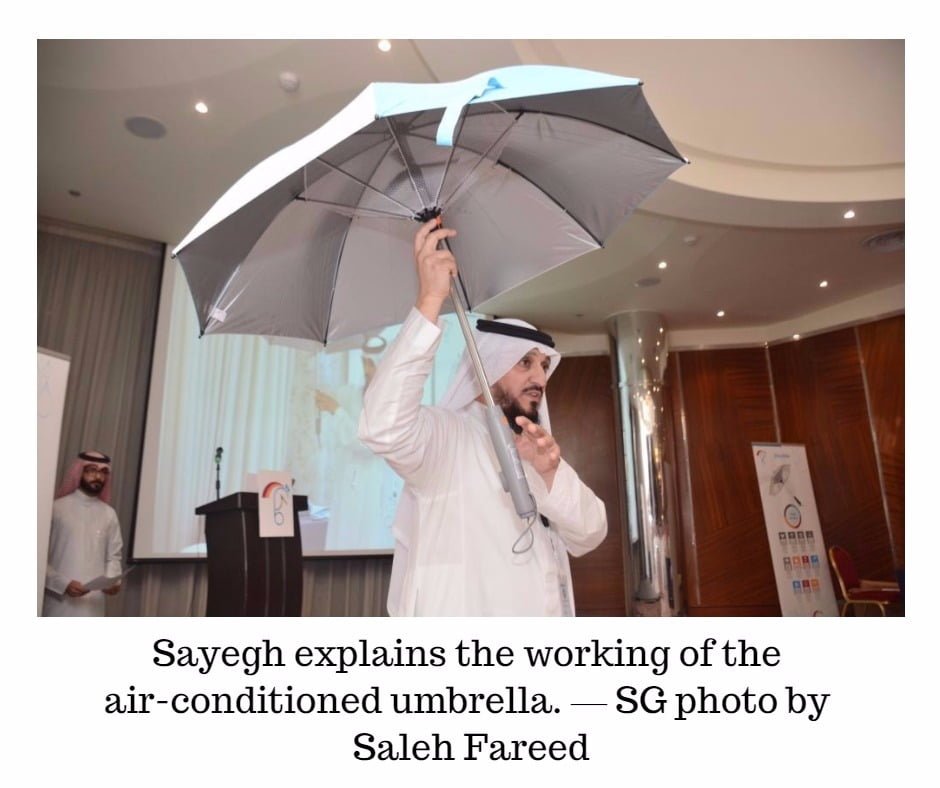 Weather forecasters are expecting a heatwave during the Hajj 2017, so a senior colleague of Mohammed Hamid Sayegh asked him to come up with the creative ideas so that they can make the Hajj 2017 easier for all the pilgrims coming to Makkah from all around the world. To be noted, Mohammed Hamid Sayegh is a Makkah resident.
The official launch of the Air Conditioned Umbrella held in the city of Makkah, where Mohammed Hamid Sayegh said that the demand of Umbrellas is going up here, the buyers are mostly Asian and European because they are not used to bear the extreme middle east heat. So, he came up with the idea to make Hajj easy for them.
In the launch, he said the umbrella works with a solar panel which charges the batteries and those batteries support the air conditioning which is embedded within the umbrella. The weight of Makkah Umbrella is just 610 Grams, which is very light.
The umbrella will keep the people cool as it pumps the water spray our of it, and this can last hours easily. These umbrellas will be available soon but as of now, it is available for sale only in China. This is also quoted in the launch, that before the Hajj 2017 they will be making it public and making it available for every single Guest of Allah coming for the Hajj 2017 pilgrimage.
Mohammed Hamid Sayegh's invention also gets the words of Appreciation from King Abdulaziz City for Science and Technology.